| | | | | |
| --- | --- | --- | --- | --- |
| | | | | |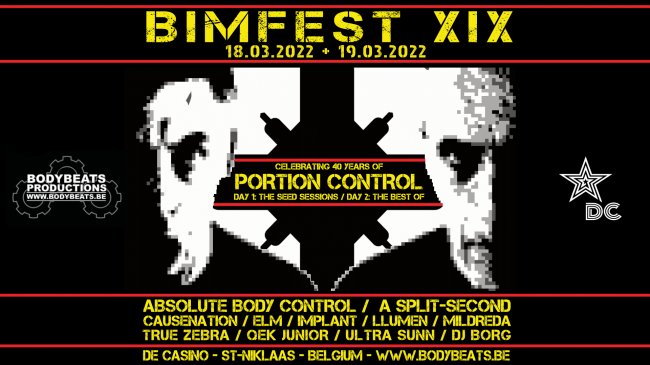 BIM 2021
Edition XIX - 17+18.12
DE CASINO - ST-NIKLAAS - B

It is with great pleasure that we can announce to you our 19th and full fledged edition of the Belgian Independent Music Festival (BIMFEST) !
Like every year, we try to compile a varying and appealing line-up in the best BIMFEST tradition! This year's line-up will be based on our postponed 2020 "light" edition but with much more bands added to the original 2020 line-up.
We are also pleased to announce UK electro/industrial/EBM pioneers PORTION CONTROL will come to celebrate their over 40 years of existence at BIMFEST! They will play on both nights with different sets, one set based on the recently released SEED EP's and one set containing a selection of the best tracks taken from their extensive back catalogue. Furthermore BIMFEST wouldn't be BIMFEST if we also didn't add some more great and rising Belgian acts! Check out the full line-up below!
TICKETS: COMBI (17+18.12) / DAY1 (17.12) / DAY 2 (18.12)
Support us by checking on our -in, share and invite your friends to our BIMFEST Facebook event!
BIMFEST DAY 1 - FRIDAY 17.12


THE ULTIMATE DREAMERS
TRUE ZEBRA
ULTRA SUNN
A SPLIT-SECOND
PORTION CONTROL
(Seed set)

BIMFEST DAY 2 - SATURDAY 18.12

LLUMEN
CAUSENATION
MILDREDA
ELM
IMPLANT
ABSOLUTE BODY CONTROL
PORTION CONTROL (Best Of set)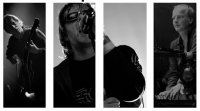 A SPLIT-SECOND has been one of Belgium's most famous musical exports since the mid-'80s and is still kicking ass to this day. With the release of classics such as 'Flesh' (1985) (a track that became a blueprint for the entire subsequent New Beat movement), 'Rigor Mortis' and 'Ballistic Statues', the band quickly established itself at the forefront of the international independent underground scene. Meanwhile, they still travel around the world, from Berlin to the far reaches of Sao Paulo and Mexico, with their hard hitting and energetic Best-Of show! Rumors say that the band is in the studio recording some new material ... so there's still more to come!

FACEBOOK / YOUTUBE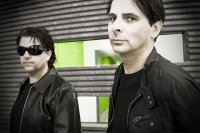 ABSOLUTE BODY CONTROL was founded in 1980 and released their first 7" and instant culthit 'Is There an Exit' just one year later. After a couple of DIY tape releases Dirk Ivens and Eric Van Wontergem putted their ABC project aside to focus on their other projects like The Klinik, Dive, Sonar, Insekt and Monolith. In 2007 however, the project got finally, and successfully, reactivated. Multiple new quality releases have been released since and with recently the mini album "A New Dawn" on 12"/CD earlier this year.
Absolute Body Control is known for their extremely danceable mix of Minimal, Electro, Synth-Pop and EBM, even to far beyond our European borders!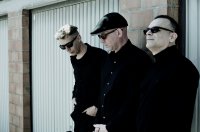 CAUSENATION was founded in 2015 by Sacrosanct, influenced by Belgian oldscool EBM bands like The Neon Judgement and Absolute Body Control. After some digital single releases through bandcamp, their debut album "Promises of Hope and Fear" , was released in January 2021 by Wool-e-discs.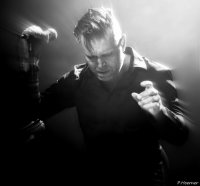 ELM is an Alternative/Electronic/EBM project founded by the Brussels-based Swedish artist Peter Elm. His music is Poetic, raw and direct. A hard pounding contemporary Kunstmachine with an international sound. Songs from HARDLINE and EXTREME UNSPOKEN TENSION will be performed as well as a few surprises from the upcoming album... Expect WAR!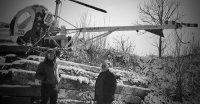 IMPLANT is the electro/EBM project of Len Lemeire and Jan D'hooge and has been contributing to the already massive inheritance of the Belgian electronic scene since 1992. This year they released their 11th album Cognitive Dissonance and the 'I Don't Trust The Machines EP and are very eager to present them to you live!

LLUMEN was formed in 2009 by Pieter Coussement, bringing multi-layered dark electronic music driven by pulsing beats, fast sequences and catchy melodies. Combining elements ranging from old-school EBM, gothic, techno, future pop and the likes, LLUMEN's pays tribute to bands like Front 242, Haujobb, Diorama, Assemblage 23, Suicide Commando and Covenant to name a few. Four years after the debut album "The memory Institute", 2021 holds the release of the follow up autobiographic album "Polygon Heart", a emotional driven dark electronic album, and live act, to check out!

FACEBOOK / WWW / YOUTUBE

MILDREDA, is one of the projects with which musical centipede Jan Dewulf has occasionally, but always successfully, expressed himself since the 1990s. Today Mildrea is back in full force! With a new album "I was Never Really There", out on the renowned Dependent label, the Mildreda freight train is back on its tracks! The raving reviews only make us even more curious about Mildreda live!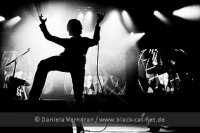 TRUE ZEBRA aka Kevin Strauwen's Belgian one-man project has been guaranteeing high-quality DIY releases and dynamic performances since 2012! In 2019, for example, he managed to mesmerize the entire Wave-Fest audience on his own and got them all dancing with his captivating, sometimes subdued, but sometimes also hard pounding, electronic music!

FACEBOOK / YOUTUBE / WWW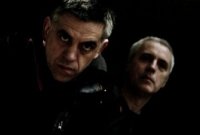 PORTION CONTROL (UK) was at the forefront of the upcoming electro industrial scene in the early eighties. Inspired by the punk mentality and the first experimental industrial acts such as Throbbing Gristle, SPK or yet Chris & Cosey. Portion Control themselves are one of the most famous obscure electronic music acts in the world and have been honored and name checked by the likes of Depeche Mode, Skinny Puppy, Front Line Assembly, Nine Inch Nails and Orbital.

PORTION CONTROL has been around for over 40 years now, and this is what they are coming to celebrate with us on BIMFEST XIX with two different live shows! On Friday night they will present us 'SEED LIVE', a set containing material of the 3 magnificent EP's, SEED 1, SEED 2 and SEED 3, which they recorded and released during the recent pandemic (20202-2021). On Saturday night PORTION CONTROL will play a selection of some their greatest tracks, taken form their extensive back-catalogue. A unforgatable, unique and exclusive experience you can't miss out on!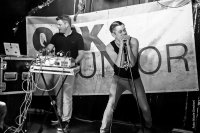 THE ULTIMATE DREAMERS is a Belgian post-punk / cold wave band conceived in 1986 and resurrected by Covid-19 and Wool-e Discs. The latter recently released The Ultimate Dreamers "Live Happily While Waiting For Death!" album.

FACEBOOK / WWW / YOUTUBE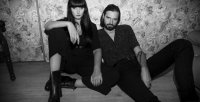 ULTRA SUNN is a contemporary band from Brussels formed in 2019. Singer Sam's deep and dark voice unfolds over Gaelle's carefully tailored setup of analog synthesizers and industrial drum machines. The couple is haunted by a Coldwave / EBM energy. Witnesses of their time, the band creates dancing, luminous and hypnotic hymns about gender equality, normative aspect of society, street harassment and fight against anxiety. Their second EP called Body Electric, is out now! For influences, the duo refers to Coldwave and EBM such as Schwefelgelb, DAF, Kontravoid, or Front 242