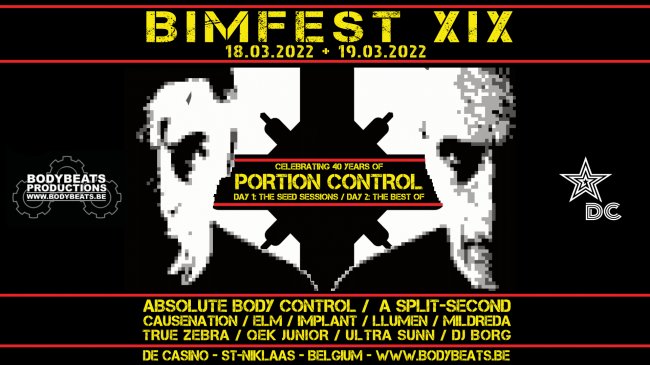 BIM 2021
Edition XIX - 17+18.12
DE CASINO - ST-NIKLAAS - B

Get your strictly limited Early Bird Tickets now OR choose to support us even more and order the 'normal' Combi-tickets! The more tickets are sold, the more bands will be added to the current line-up!
This Corona pandemic has put our organization under a lot of financial stress as some costs to maintain an organization are constant. Think of the futile advertisement campaigns, loss of strategic food and drink stocks (due expiration date), etc etc ... .
That's why we decided to keep the original limited line-up from our planned BIMFEST 2020 edition … For now …
HOWEVER, YOU can help us to make BIMFEST GREAT again!
YOU can give us the power and self-confidence to add more great bands to this 2021 line-up, still!
So order those tickets TODAY and show us your support and faith!
Thank you!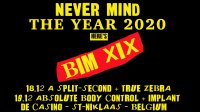 Order your tickets for :


BIMFEST XIX - 2 days (Early Bird Combi-ticket)
17/12/2021 De Casino - St-Niklaas - B

BIMFEST XIX

17+18.12.2022 @ De Casino - St-Niklaas - B

Ticket Prices:

Combi-ticket Early Bird (2 days): € 50
Combi-Ticket Pre-sale (2 days): € 55
Combi-Ticket Box-office (2 days): € 65

Day 1 - Friday 13th - Pre-sale: € 30
Day 1 - Friday 13th - Box-office: € 35

Day 2 - Saturday 14th - Pre-sale: € 30
Day 2 - Saturday 14th - Box-office: € 35
---
Order your tickets for :


BIMFEST XIX - 2 days (Combi-ticket)
17/12/2021 De Casino - St-Niklaas - B

BIMFEST XIX

DAY 2 - 18.12.2022 @ De Casino - St-Niklaas - B

Ticket Prices:

Combi-ticket Early Bird (2 days): € 50
Combi-Ticket Pre-sale (2 days): € 55
Combi-Ticket Box-office (2 days): € 65

Day 1 - Friday 13th - Pre-sale: € 30
Day 1 - Friday 13th - Box-office: € 35

Day 2 - Saturday 14th - Pre-sale: € 30
Day 2 - Saturday 14th - Box-office: € 35
---