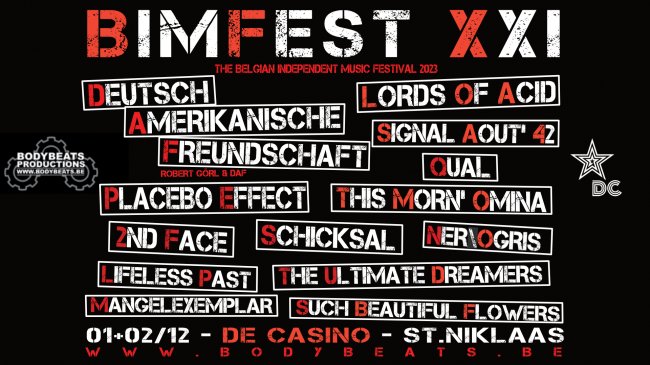 BIMFEST XXI
01 + 02.12.2023
DE CASINO - ST-NIKLAAS - B

BODYBEATS PRODUCTIONS is preparing the 21th edition of its worldwide renowned, congenial alternative underground music festival; BIMFEST, or Belgian Independent Music Festival to give its full title.

First confirmed artists:
DEUTSCH AMERIKANISCHE FREUNDSCHAFT (Robert Görl & DAF)
PLACEBO EFFECT (D)
QUAL (UK)
2nd FACE (D)


More TBA Soon!
Stay Tuned and subscribe to the BodyBeats newsletter HERE!
Support us by checking on our -in, share and invite your friends to our BIMFEST Facebook event!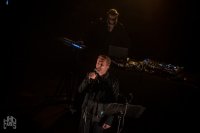 DEUTSCH AMERIKANISCHE FREUNDSCHAFT is probably one of the best known and most influential electro-punk/Nue Deutsche welle bands and was founded already in 1978. Although DAF started as an "full band" the line-up was narrowed down to Gabi Delgado (Vocals) and Robert Görl (Drums) by 1981. Sadly frontman and singer Gabi Delgado unexpectedly died on 22 March 2020 aged 61 in the middle of recording a new upcoming album. At this point Robert Görl decided to finish the album on his own, with some help from producer Sylvie Marks, as tribute to his passed away life-time colleague and friend. He named the 'Nur noch einer!' (Only one more!) and started touring Europe soon after with the songs of this album. Meanwhile the live-set evolved and more 'older' and 'classic' DAF songs are also being performed. Instead of trying to copy the energetic stage performances of Gabi Delgado, Robert is taking a complete different approach. No longer behind the drums, but instead behind the mic and backed with Sylvie Marks on synths & electronics, he presents us the story and legacy of DAF in his own respectful way.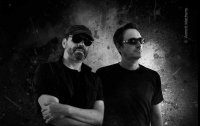 PLACEBO EFFECT (D) is a German Dark-Electro band formed in 1989. After releasing some DIY tapes they released their debut studio album Galleries of Pain in 1992. An album that is still considered to be one of the classic EBM albums that were released in the 90s. Two more releases followed, the Slashed Open EP in 1993 and Manipulated Mind Control in 1994. In 2020, the band released Shattered Souls — their first studio album in 26 years! Placebo Effect lve performances are known to be a true feast for both eyes and ears and it will be their first and exclusive show on Belgian soil since 28 years!!!!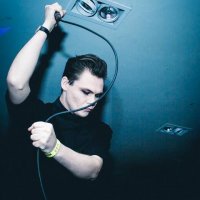 QUAL (GB) is the solo project of William Maybelline of Lebanon Hanover. With Qual he explores a much darker and gloomier soundscape of Minimal-Synth and hars Electro/EBM. Since 2015 Qual has released 3 full albums and a bunch of EP's & 12"s. Meanwhile his pumping underground tracks like 'Cupid Dissolvi' & 'How Many Graves' filled many dark smokey dance floors all over the world!

2ND FACE is a project led by mastermind Vincent Uhlig who far surpassed the huge expectations stoked by the acclaimed debut album "Nemesis" with his sophomore full-length "utOpium". The certified German sound magician has created a multi-layered masterpiece that does not just feed pure ear-candy to audiophiles as any headphone-test will confirm, but also thrills with excellent songwriting and lyrical depth.The darkness of the Belgian school has left an audible mark in the sound of 2ND FACE yet also notes of SKINNY PUPPY, and even a knife tip of avant-garde pioneers TOOL.

FACEBOOK / WWW / YOUTUBE