24.2.2024 International EBM Day is coming ... again!
What and why?
As the title already suggests this will be a day on which we will celebrate one of our beloved music genres, Electronic Body Music! A dark but pounding music style, maybe not invented as such, but most definitely best fine-tuned and exploited by our national EBM icons Front 242. Don't expect Kraftwerk, DAF or the aforementioned pioneers, but a fine selection of their legacy!

When?
Since 24.2 happens to be on a SATURDAY in 2024 we can celebrate this annual event on the official day on which EBM fans all over the world celebrate International EBM day >24.2<.
So mark your agenda and come celebrate Electronic Body Music with us and your like-minded souls!

Who?
TBA
TBA
TBA
TBA
TBA


Where?
At the lovely De Casino of course!

Resident DJ BORG will provide the afterparty Electronic Body Music!

Don't forget to check in on our Facebook event page and let your friends know your are going!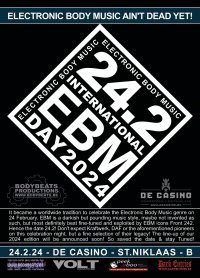 Order your tickets for :


International EBM Day 2024 (Blind Birds)
24/02/2024 De Casino - St-Niklaas - B


24.2 INTERNATIONAL EBM DAY
2024 EDITION
with live performances by:

TBA
Tickets € 24,2 (Blind Birds) / € 30 (@ doors)
---
THE FAST & THE FURY WAY
This is easiest and fastest way to buy your tickets is clicking the countdown clock.
You can pay instantly by credit card, PayPal, direct bank transfer.
You will get your e-ticket by e-mail immediately after payment!