Dear BodyBeats friends & supporters, (NL hieronder)
It's with great regret we have to announce his concert has been postponed, once again. :( Today, Grausame Töchter have informed us it will be impossible for them to travel to Belgium and perform at the Fetish Café under the current corona rules and restrictions, both in Germany and in Belgium. Also, since 21 November Belgian has officially become a "red / high risk zone" again for German citizens. This means the band could face a strickt quarantine upon their return.
However, we are already trying to consolidate a new date with Grausame Töchter for Spring 2022.
We are sorry for the inconvenience this might have caused, but as you will understand, this is also completely beyond our power and will …
We will keep you posted and of course, your tickets will remain valid!
Hope to see you all then!
---
NL
Beste BodyBeats vrienden & supporters,
Het is met veel spijt dat we moeten aankondigen dat dit concert opnieuw wordt uitgesteld. :( Vandaag heeft Grausame Töchter ons laten weten dat het voor hen onmogelijk zal zijn om naar België te reizen en op te treden in het Fetish Café. Dit door de huidige coronaregels en -beperkingen, zowel in Duitsland als in België. België is namelijk sinds 21 november officieel en opnieuw een "rode / hoge risicozone" geworden voor Duitse burgers, wat betekent dat de band bij terugkeer in strikte quarantaine kan worden geplaatst.
Maar, ondertussen proberen wij wel al een nieuwe datum vast te leggen is samenspraak met Grausame Töchter voor het voorjaar van 2022.
Het spijt ons voor de ongemakken die dit mogelijk heeft veroorzaakt, maar zoals u zult begrijpen, ligt dit volledig buiten onze macht en wil ...
Wij houden u persoonlijk op de hoogte en uiteraard blijven uw tickets geldig!
Hopelijk tot dan!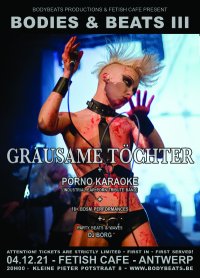 GRAUSAME TÖCHTER, THE dark, artistic, sadomasochistic, cruel, philosophical, notorious, intelligent, scandalous GIRL BAND returns to Antwerp!
The wait is over! We are very please to announce the long awaited return of GRAUSAME TÖCHTER to Antwerp! After their fantastic performance in 2015 on our Black Easter Festival a return of Grausame Töchter was imminent. Sadly the Covid-19 pandemic forced us to postpone the 2020 plannned show untill today!
Meanwhile mistress Aranea Peel and her musical slaves have released a new album this year named 'Zyklus' and they are eager to show you all their tallents in our special dark but cosy BODIES & BEATS location, the renowend Antwerp Fetish Café! Don't miss out on this maybe once in a live-time experience and order your tickets now because they are VERY LIMITED!