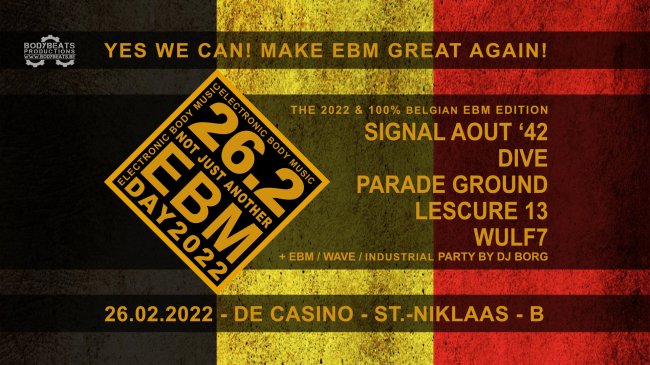 20.02.22 Not Another EBM day! The 100% Belgian Edition!
What and why?
As the title already suggests this will be a day on which we will celebrate one of our beloved music genres, Electronic Body Music! A dark but pounding music style, maybe not invented as such, but most definitely best fine-tuned and exploited by our national EBM icons Front 242. Don't expect Kraftwerk, DAF or the aforementioned pioneers, but a fine selection of their legacy! After our 100% Swedish edition in 2019, we decided to host a 100% Belgian edition this year!

When?
In an ideal world we would hold this annual event on the official date on which EBM fans all over the world celebrate International EBM day >24.2<.
However, we all like to party harder during the weekend so we decided to deviate a little from the official EBM celebration day. Therefor, we opted this year for 26 February and called it 'Not Just Another EBM Day'!
So this is the date to mark in your agenda!
Come celebrate Electronic Body Music with us and your like-minded souls!

This year's 100% Belgian line-up:
SIGNAL AOUT '42
DIVE
PARADE GROUND
LESCURE 13
WULF7

Resident DJ BORG will provide the afterparty Electronic Body Music!

Don't forget to check in on our Facebook event page and let your friends know your are going!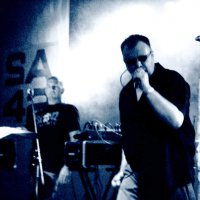 SIGNAL AOUT '42 or SA42, is the musical project from and around producer and singer Jacky Meurisse. Founded originally as 'Signal' in the early 80's, they changed the name to SA42 with the release of their first 12" maxi-singles. 'Pleasure And Crimes' and 'Girls Of Flanders' (1986) were both almost immediate club hits and dance floor fillers around the world. Their 12"s and club hits kept coming until 1993. Then, after a hiatus of more than 10 years, SA42 stroke back again with regular and qualitative releases on the renowned German alternative label Out Of Line Records. It's indisputable, SA42 still for top notch dark but danceable Electro / EBM!
| | | | | |
| --- | --- | --- | --- | --- |
| | | | | |
DIVE is the Industrial/EBM solo project of Dirk Ivens (Absolute Body Control/The Klink/Motor!k/Sonar/...). Influenced by bands like Suicide, D.A.F. and the early U.K. electro scene his projects appear since 1980 on several compilations. Dirk Ivens is probably best known as singer from the legendary Electro/industrial band The Klinik. In 1990, he released his first solo album under the DIVE moniker. The music - very primitive, harsh and experimental - hits like 10000 volts, and was the start of many releases, with an evolving sound, since. With a minimum of equipment, he creates a maximum of power on stage! In 2019 DIVE celebrated his 30 years of existence, and last year he hit us hard again with a brand new album / box-set 'Where Do We Go from Here' which even entered the Official German Album Charts! On this 2022 edition year he will finally come to celebrate EBM with us!
FACEBOOK / WWW / DISCOGS
| | | | | |
| --- | --- | --- | --- | --- |
| | | | | |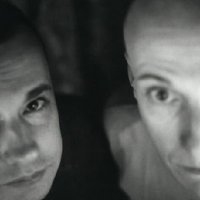 PARADE GROUND was formed in 1983 by brothers Pierre Pauly and Jean-Marc Pauly. Daniel B. and Patrick Codenys (FRONT 242!), aware of Parade Ground's talent and potential, produced almost all releases form Parade ground and released some material through Mask (Front 242's label in the early days). One of those many EP's they released is for instance 'Dual Perspective' with Daniel B producing side A and Colin Newman of WIRE producing side B. The two brother were also involved in tproducing and composing of the Front 242 Albums 'Fuck:Up Evil' & 'Evil:Off'. Parade Ground is known for highly energetic and hypnotizing live shows! Still sounding young, violent and very angry!
| | | | | |
| --- | --- | --- | --- | --- |
| | | | | |
LESCURE 13 is the EBM side project of Johan Van Roy (SUICIDE COMMANDO) and Stefan Bens (STIN SCATZOR), originally founded back in 1990. After numerous tape-releases throughout the 90s their first self-titled CD album was released in 1997. Due to the booming popularity of Suicide Commando the project was put on hold during the next decades. In 2013 they resurfaced with some festival appearances and new full-length album named 'Too Much ... Motherf***ers!', which was released by Out Of Line. Live shows by Lescure 13 are very rare so don't miss out!!
| | | | | |
| --- | --- | --- | --- | --- |
| | | | | |
WÜLF7 is a new and fresh EBM project featuring Sebastian aka Sebmer Blondwulf and Cyr II. Both were already very well know in the (Belgian) underground electro and EBM scene due to their everlasting support towards independent promoters and uprising electro/EBM bands. But since 2017 these two friends joined hands to form their own project Wülf7. Although style-wise Wülf7 fits perfectly on this festival, they themselves rather describe their musical style as DEBM, or Dark Electro Body Melancholic. We think you can all agree Wülf7 deserves a place on our 2022 Belgian EBM day, if only for the support they have given this scene throughout the years past. So show some respect, be on time!
FACEBOOK / WWW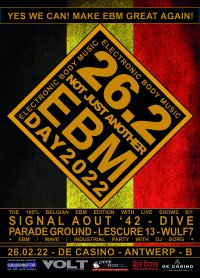 Order your tickets for :


BELGIAN EBM DAY 2022
26/02/2022 De Casino - St-Niklaas - B

26.02 NOT JUST ANOTHER EBM DAY 2022
THE 100% BELGIAN EDITION
with live performances by:

SIGNAL AOUT '42 - DIVE - PARADE GROUND - LESCURE 13 - WÜLF7
+ EBM / ELECTRO / INDUSTRIAL PARTY WAVES & BEATS BY DJ BORG +
Tickets € 25 (presale) / € 30 (doors)
---