Click here to read more (recent) news
---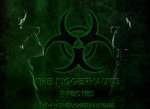 + 20.000 views for the 'Infected' video from The Juggernauts!
10 March 2015 14:59
---
Today, the DIY video of The Juggernauts song 'Infected' was viewed over 20.000 times. 'Infected' was featured on their first EP 'Phoenix' which sold-out within the year. This 'no-budget' video was made and uploaded by BORG less than two years ago, shortly after the release of the 'Phoenix'.
We can only hope a succeeding video is imminent ...
www.youtube.com/watch?v=YTZUJGts8Z0
THE JUGGERNAUTS (B)
[permalink]
---
Click here to read more (recent) news