---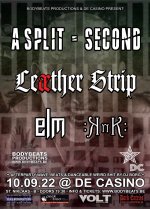 Just Another EBM day with A Split-Second, Leaether Strip, Elm & Knk!
03 August 2022 11:58
---
---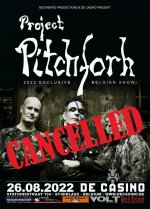 PROJECT PITCHFORK CANCELLED
28 June 2022 11:34
---
PROJECT PITCHFORK CANCELLED
It is with great regret that we have to announce Project Pitchfork decided to cancel the planned concert on August 26th 2022. We offered several new dates and opportunities and while were still looking forward to confirm a new date the band suddenly decided one-sided to pull the plug our foreseen event.
We are sorry for the inconvenience this might have caused, but know we are very disappointed be this chain of events too …
Previously purchased tickets will be reimbursed in the next days!
—————————————————————————————————————————————————————
Het is met grote spijt dat we moeten aankondigen dat Project Pitchfork heeft besloten het geplande concert op 26 augustus 2022 te annuleren. Ook al boden wij hen al verschillende nieuwe data en kansen aan en terwijl we nog steeds uitkeken naar een nieuwe datum, besloot de band plotseling eenzijdig de stekker uit te trekken.
Het spijt ons voor het ongemak dat dit mogelijk heeft veroorzaakt, maar weet dat wij zelf ook erg teleurgesteld zijn over deze reeks gebeurtenissen …
Eerder gekochte tickets worden de komende dagen terugbetaald!
[permalink]
---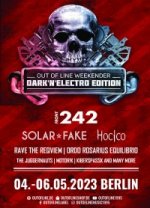 The Juggernauts + Motor!k confirmed at Out Of Line Weekender 2023
23 June 2022 15:06
---
BodyBeats Productions & Out Of Line present:
We are happy to announce The Juggernauts & Motor!k will play the renowned Out Of Line Weekender 2023 "Dark'n'Electro" Edition - A festival presenting the best of Industrial, Synth Pop, EBM and Dark Music!
The Out Of Line Weekender takes place from May 4th to 6th, 2023 right in the heart of Berlin.
+ Front 242
+ Solar Fake
+ Hocico
+ The Juggernauts
+ Motor!k
+ more TBA
+ DJs & Afterparty
More info on www.weekender.berlin
THE JUGGERNAUTS (B)
[permalink]
---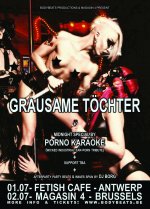 GRAUSAME TÍCHTER is coming ... TWICE!
19 May 2022 15:49
---
We are happy we can finally announce and confirm the new date of long awaited performance of GRAUSAME TÖCHTER @ Fetish café! It will finally happen on 1 July! But there's even more! Since the Antwerp show has been virtually sold out since this show was originally announced, we decided to add another concert of Grausame Töchter on Saturday 2 July! Take your pick and enjoy!
PORNO KARAOKE
[permalink]
---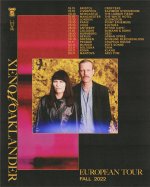 XENO & OAKLANDER @ Bodies & Beats on 26 October!
08 May 2022 16:14
---
We are proud to announce yet another great artist for a VERY EXCLUSIVE & VERY LIMITED CLUBNIGHT @ Fetish Cafe!
XENO & OAKLANDER
The US East Coast minimal synth wave duo, will be presenting their latest record "vi/deo" released on Dais Records!
This event will take place in a very special setting … the dark but cosy dungeons of the Antwerp Fetish Café!
For those who are not yet familiar with our Bodies and Beats concept, don't be scared of the unknown ... there are worse places on earth to be these days!
Also good to know ... no dresscode whatsoever is required but some kinkiness is always appreciated!
Take note! Our dungeons of pleasure have a VERY LIMITED CAPACITY so tickets are STRICTLY LIMITED to ONLY 70!
So be fast or be sorry!

Time-schedule (Subject to change):
20:00 Doors / DJ
21:00 XENO & OAKLANDER
+ Aftershow party beats & waves by DJ BORG
Let your friends know you are going and check in on our FACEBOOK EVENT!
www.bodybeats.be/en/tickets/26-10-xeno-oaklander
[permalink]
---