---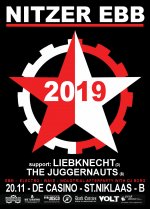 NITZER EBB + LIEBKNECHT + THE JUGGERNAUTS + 20.11 @ De Casino - St-Niklaas - B
17 August 2019 11:39
---
Neuwerk & BodyBeats Productions present:
NITZER EBB
+ LIEBKNECHT + THE JUGGERNAUTS +
20.11 @ De Casino - St-Niklaas - B

The legendary British EBM band are returning after a long break of 8 years! The band will be performing together with their original members David Gooday & Simon Granger.

Alongside with the return of the band a Box set with their work from 1982-2010 was released by Pylon Records on October 5th, 2018!

We at BodyBeats are proud to have this legendary band back again on our stage for an EXCLUSIVE BELGIAN 2019 CLUBSHOW at De Casino, St-Niklaas!

Next to NEB's tour support LIEBKNECHT our local Belgian NU-EBM heads of THE JUGGERNAUTS will be spicing up the night with even more beats en bleeps!

If that isn't enough, DJ BORG will assimilate you all with his danceable weird shit on the after party!
www.bodybeats.be/en/tickets/20-11-nitzer-ebb-de-casino
THE JUGGERNAUTS (B)
[permalink]
---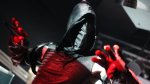 FÏX8:SËD8 added to BIMFEST 2019 line-up!
31 July 2019 16:44
---
Here we are with yet another addition to BIMFEST 2019, FÏX8:SËD8! This German dark electro/EBM band, heavily influenced by the North American industrial sound, has released this year their fourth studio album and is coming to BIMFEST to present it to you!
FÏX8:SËD8 is a dark electro/EBM music band from Frankfurt, Germany and was founded by mastermind Martin Sane. Heavily influenced by North American industrial acts such as Velvet Acid Christ and Skinny Puppy, their sound is characterized by an excessive use of samples, complemented by rich textures, complex sequences, edgy rhythms, and charged with heartfelt distinctive vocals. Recently FÏX8:SËD8 released their 4th studio album 'Warning Signs' on Dependent Records which was well received by the alternative music press.
To keep the tension growing we now only our two headliners are still to be announced in the coming days!


[permalink]
---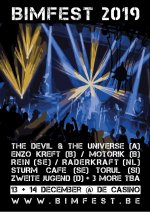 Slovanian electro-synth-pop band added to BIMFEST 2019 line-up!
29 July 2019 16:06
---
We at BodyBeats/Bimfest are proud to announce Slovenian Electro-popper Torul will perform a BIMFEST 2019! While their latest release reached the top of the German Alternative Charts (DAC), Torul concerts are known to be powerful, melancholic and charismatic live performances!

TORUL (SI) is an electro-pop band from Slovenia, headed by Torulsson, constantly exploring and merging influences with their own development in production. Instead of strictly following one style of music, TORUL are interested in production with a broader approach to music. The first TORUL album 'Dark Matters' saw light in 2010 and in spite of almost non-existent promotion brought two quite well accepted singles, 'It Was Supposed To Be Fun' and 'Saddest Song'. Right after that TORUL was signed by German independent label 'Infacted Recordings' and released the much more noticed album 'In Whole', from which two singles made it into the top 3 in various alternative charts ... Recently they released their sixth studio album 'Hikikomori' which reached number 1 in the German DAC charts!
www.bodybeats.be/en/bimfest-xviii
[permalink]
---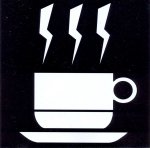 STURM CAFE returns to BIMFEST 2019!
24 July 2019 21:26
---
We are happy to announce our second Swedish guests for BIMFEST 2019, STURM CAFE!!!
They have played BIMFEST successfully once before in 2010 but now, almost 10 years later, these 'Scheissnormale' boys are returning to Belgium to celebrate the re-release of their first two albums 'So Seelisch, So Schön!' and 'Europa!' and to present us some brand new stuf!"
2 Headliners & 2 more TBA soon!
> Limited Early Bird Combi-Tickets available now! (Only 100!) <

PS: BIMFEST 2019 website is under construction
[permalink]
---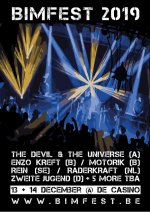 First BIMFEST 2019 names released!
15 July 2019 14:27
---
---