---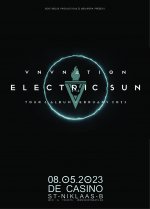 VNV NATION @ De Casino - POSTPONED to 8 May 2023 due to Illness !
13 March 2023 19:11
---
Today we have been informed by the management of VNV NATION that the band has to cancel the planned performance on Wednesday 15 March at De Casino, St Niklaas. This due to illness of their singer Ronan, who suffered an allergic reaction on Sunday night that severely affected his throat and vocal cords.
But we are happy that we can already announce the new planned date, Monday 8 May!
We apologize for any inconvenience this may cause but you will understand it's beyond our will.
So we hope to see you all on May 8!
This is the official announcement from the VNV Nation Management:
"We are really sorry to have to postpone the Amsterdam and Sint-Niklaas shows. Ronan had an allergic reaction on Sunday night which has badly affected his throat. He has to rest his voice for 3 days until it recovers.
We are happy to be able to announce the re-scheduled dates as follows:
Sint Niklaas: 08.05.2023
All tickets remain valid.
Thank you very much for your understanding, patience & support. "
www.bodybeats.be/en/tickets/08-05-23-vnv-nation-de-casino
[permalink]
---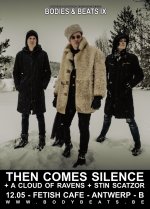 12.05 THEN COMES SILENCE + A CLOUD OF RAVENS + STIN SCATZOR @ BODIES & BEATS IX
28 February 2023 18:23
---
BodyBeats & Fetish Café are pleased to announce THEN COMES SILENCE (SE) and their EU tour support A CLOUD OF RAVENS (USA) will pass by Antwerp for another VERY EXCLUSIVE & VERY LIMITED CLUB concert!

Extra (local) support: STIN SCATZOR!
This event will take place in a very special setting … the dark but cosy dungeons of the Antwerp Fetish Café!
For those who are not yet familiar with our Bodies and Beats concept, don't be scared of the unknown ... there are worse places on earth to be these days!
Also good to know ... no dresscode whatsoever is required but some kinkiness is always appreciated!
Take note! Our dungeons of pleasure have a VERY LIMITED CAPACITY so tickets are STRICTLY LIMITED to ONLY 70!
So be fast or be sorry!

Time-schedule:
20:00 Doors
21:00 A CLOUD OF RAVENS
22:00 STIN SCATZOR
23:00 THEN COMES SILENCE
+ Aftershow party beats & waves by DJ BORG
Let your friends know you are going and check in on our FACEBOOK EVENT!
www.bodybeats.be/en/tickets/12-05-then-comes-silence
STIN SCATZOR (B)
[permalink]
---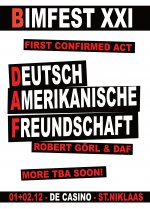 FIRST BIMFEST 2023 ARTIST CONFIRMED! DEUTSCH AMERIKANISCHE FREUNDSCHAFT!
25 February 2023 18:38
---
We are proud to announce founding DAF member, ROBERT GÖRL, will perform at our 21st edition of BIMFEST @ De Casino - St. Niklaas as DEUTSCH AMERIKANISCHE FREUNDSCHAFT!

More artists TBA soon!
www.bodybeats.be/en/bimfest-xxi
[permalink]
---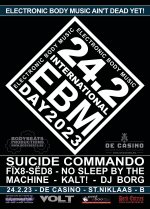 SUICIDE COMMANDO to replace F/M on International EBM day - 24.2.2023 - De Casino - B
25 January 2023 11:50
---
To our great regret we learned yesterday FIXMER/MCCARTHY unfortunately has to cancel their European tour due to the cancelation of a major festival in Germany. Fortunately, in case of such last minute cancellations, we can always rely on many of our musical friends! This time on JOHAN VAN ROY with SUICIDE COMMANDO came (again) to rescue! Suicide Commando can be considered one of the most successful Belgian EBM export products since decades! At BIMFEST 2019 they blew the roof of De Casino and we have no doubt that they will succeed in this again at our International EBM day!
We're sorry for any inconvenience this may have caused but it was beyond our will so we hope we can still count on your support and looking forward to see you all at our International EBM day celebration!
More info & tickets on the link below!
www.bodybeats.be/en/international-ebm-day-2023
[permalink]
---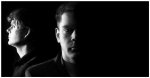 QEK JUNIOR on Bodies & BEATS ... TWICE (10.02 + RITUAL HOWLS & 12.02 + ZANIAS) @ Fetish Cafe - Antwerp
19 January 2023 16:03
---
We are please to announce German minimal wave band QEK JUNIOR will spice up both of our February Bodies & Beats nights, this on Friday 10th (With RITUAL HOWLS) and Sunday 12th (with ZANIAS)! QEK JUNIOR promised us to play a totally different setlist, one each night! So double the fun an be there twice!
Be warned, the capacity at our cosy Fetish Cafe is STRICTLY LIMITED! No dresscode required! Just come as you are!
[permalink]
---