Welcome to our BodyBeats ticket shop!
There are two ways of ordering your tickets ...
1. The 'old-school way:
Follow-up is done manually so this can take some days!
- Select your desired event from the tickets dropdown menu above OR click the event flyer above!
- Fill in the form.
Attention: Payment is only possible by bank-transfer.
Your e-ticket will be send by e-mail after payment is received and confirmed.
- Due the manual follow-up this option will become unavailable one week before the event.

If you didn't recieve any e-mail confirmation, PLEASE CHECK YOUR SPAM!

2. The fast & fury way (Not available for our Bodies & Beats events!):
This is easiest way to buy your tickets is by using the BodyBeats Eventbrite ticketshop > HERE!

There you can order and pay instantly by credit card, PayPal, direct bank transfer.
You will get your e-ticket by e-mail immediately after payment!
no tickets anymore / at this moment
no tickets anymore / at this moment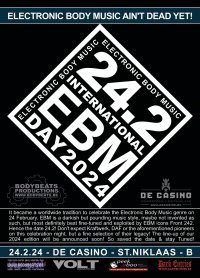 Order your tickets for :


International EBM Day 2024 (Blind Birds)
24/02/2024 De Casino - St-Niklaas - B


24.2 INTERNATIONAL EBM DAY
2024 EDITION
with live performances by:

TBA
Tickets € 24,2 (Blind Birds) / € 30 (@ doors)
---