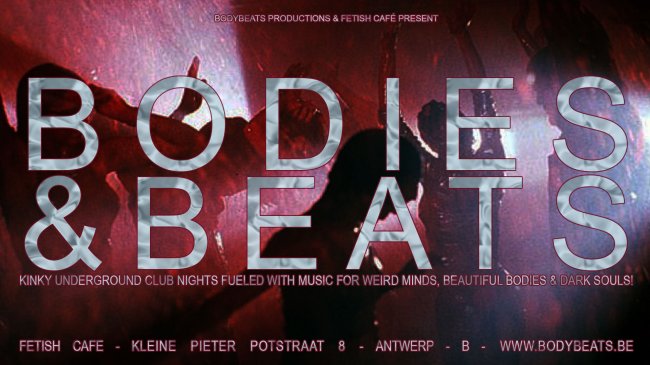 BodyBeats and Fetish Café are proud to announce:
BODIES & BEATS @ Fetish Café!
Since 2019, and on a regular basis, BodyBeats will organise kinky underground club nights fueled with great music for beautiful minds, beautiful bodies and dark souls! This will take place in a very special setting … The dark and cosy dungeons of the Antwerp Fetish Café!

Besides party beats & wave spun by our resident DJ BORG we will invite some known and less known bands, new and old bands ... to perform at those nights!
And for those who are a bit scared of the unknown ... Don't be!
There is no dresscode whatsoever but some kinkiness is always appreciated!

Mind you!

Our dungeons of pleasure have a very limited capacity so tickets for these events are STRICKLY LIMITED!!! Only 70(!) tickets will be made available!

So be fast or be sorry!

Next BODIES & BEATS nights:

22.10 Bodies & Beats XIII - RUE OBERKAMPF (Facebook) (Tickets)

More dates coming soon!


Warning! These nights are strictly 18+ / Random fetish/bdsm performance might OR might NOT occur in the main dungeon room! However in the bar area you'll be safe all time!

www.fetish-cafe.com


no tickets anymore / at this moment
PAST BODIES & BEATS FEAST @ FETISH CAFE

2023
05.10 Odonis Odonis + Choke Chain
15.09 Monolith + PreEmptive Strike 0.1 + Degenerated Sequences
18.08 The Juggernauts + Bhpl + Dreadfool + Deleritas
12.05 Then Comes Silence + Stin Scatzor + A Cloud Of Ravens (SOLD OUT)
10.02 RIitual Howls + Qek Junior
12.02 Zanias + Qek Junior

2022

31.10 Halloween Edition - RABBITS WEAR BOOTS + BRAINQUAKE
26.10 XENO & OAKLANDER
10.05 ZANIAS
25.05 TRUE ZEBRA + PORNO KARAOKE + SONAR (surprise gig!)
01.07. Grausame Töchter + Porno Karaoke + True Zebra (SOLD OUT)

2019
03.10 LEAETHER STRIP + SLAVE SEPERATION vs KNK (SOLD OUT)
20.12 ELM + Pantser Fabriek