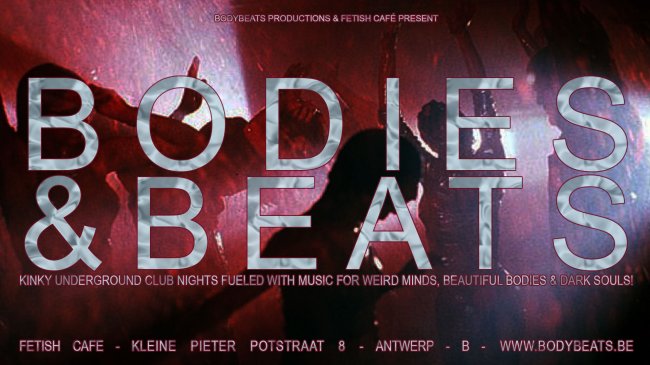 BodyBeats and Fetish Café are proud to announce a brand new concept and collaboration:
BODIES & BEATS @ Fetish Café!
From now on, and on a regular basis BodyBeats will organise kinky underground club nights fueled with great music for weird minds, beautiful bodies and dark souls! This will take place in a very special setting … The dark and cosy dungeons of the Antwerp Fetish Café! Besides party beats & wave spun by DJ BORG we will invite known and less known bands, new and old bands to perform at those nights!
And for those who are a bit scared of the unknown ... Don't be!
There is no dresscode whatsoever but some kinkiness is always appreciated!

Mind you!

Our dungeons of pleasure have a very limited capacity so tickets for these events are STRICKLY LIMITED!!! Only 70(!) tickets will be made available!

So be fast or be sorry!

Next editions:
04.12 BODIES & BEATS III with GRAUSAME TÖCHTER + PORNO KARAOKE
More dates coming soon!


Warning! These nights are strictly 18+ / Random fetish/bdsm performance might/will occur!

www.fetish-cafe.com


BodyBeats and Fetish Café are proud to announce a very exclusive and very limited performance by no less than German Electronic Fetish perfomance project GRAUSAME TÖCHTER in our very special setting, the atmospheric dungeons of the Antwerp Fetish Café!

The Electro-Industrial coverband PORNO KARAOKE will be the support for night!
Resident DJ BORG will abuse the decks for your pleasure, spinning some of the finest and darkest beats until you drop! Enjoy!
Warning! This is an 18+ club and event!
BDSM performances might take place during the event! However these performance will be conducted in the main play room, while bar area will remain a prety safe purgatory.

Doors: 20h00 / 20h30 Porno Karaoke / 22h00 Grausame Töchter / 23h00 EBM afterparty with DJ BORG
No dresscode required!
However, our gatekeeper/doorbitch may reward the most special / daring / kinky ones with a free cocktail!
no tickets anymore / at this moment