Click here to read more (recent) news
---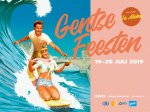 A Split-Second confirmed to headline @ Gentse feesten on JULY 21st!
26 June 2019 13:52
---
Sometimes a band has to have some patience ... Since their start (1985) the band made a blitz career all over the world and soon stood, though not consciously, at the cradle of a music genre with their undergroud club hit 'Flesh'. A song and genre that would put Belgium on the map of electronic dance music worldwide, New Beat! Today, numerous albums and countless performances all over the wold later, the band was invited to play at the FREE city festival of their own hometown, Ghent!
A Split-second will perform as headliner on the main stage of Walter De Buckplein / St-Jacobs.
For the complete program of the the Ghent festivities, click the link!
gentsefeesten.stad.gent/en/day/21/location
A SPLIT-SECOND (B)
[permalink]
---
Click here to read more (recent) news