Click here to read more (recent) news
---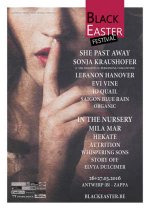 Black Easter Festival will take place as planned!
25 March 2016 17:46
---
Since some people are wondering if our Black Easter Festival is going to take place we like to say everything will go on as planned, like every other cultural and musical event in Belgium!
Unfortunately, Rosa Rubea, the only band who was plannend to fly-in, had to cancel because their flight's got cancelled.
Belgian Minimal/Electro act STORY OFF will fill this gap in the best way they can!
[permalink]
---
Click here to read more (recent) news