Click here to read more (recent) news
---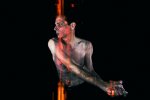 New DIVE album 'Underneath' + 2017 tour announced!
24 January 2017 13:54
---
The new DIVE album "Underneath" from Dirk Ivens in collaboration with Ivan Iusco (Minus Habens) and Rafael M. Espinosa (Geistform) is scheduled for April 2017 and coming out on the German based label Out Of Line.
DIVE will tour extensively in 2017 in order to promote his new album.
Part one of this tour is as follows :
21 APRIL De Nieuwe Nor / Heerlen - Netherlands (+ Whispering Sons)
22 APRIL JH 2470 / Retie – Belgium (+ Stin Scatzor + Akalotz + KnK)
29 APRIL Rockcafe / Prague - Czech Republic (+ The Invincible Spirit + Psyche + The Saint Paul)
30 APRIL Gozsdu Mano Klub / Budapest – Hungary (+ The Juggernauts + True Zebra)
06 MAI Madame / Sao Paulo – Brasil (+ The Force Dimension + The Juggernauts)
12 MAI Stellwerk / Hamburg – Germany ( + The Juggernauts + TC75 )
13 MAI Das Bett / Frankfurt – Germany (+ 2nd Face + Full Contact69)
26 MAI Lygten Station / Copenhagen – Denmark
27 MAI Slimelight / London – U.K (+ Gertrud Stein)
09 JUNE Synth After Work / Stockholm – Sweden (+ The Juggernauts)
10 JUNE Musikens Hus / Gothenborg – Sweden (+ The Juggernauts)
DIVE (B)
[permalink]
---
Click here to read more (recent) news