Click here to read more (recent) news
---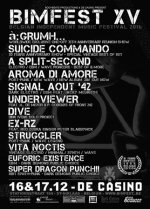 Super Dragon Punch!! & Euforic Existence selected as BIMFEST XV openers!
20 June 2016 10:42
---
While Drangon Super Punch!! was already selected on our first Dark Demons Night, the audience last Saturday chose Euforic Existence as their personal and favorite opener for BIMFEST 2016.
With the addition of these last two bands our BIMFEST 2016 line-up complete!

Tickets are going realy fast so order now before you're too late!
[permalink]
---
Click here to read more (recent) news