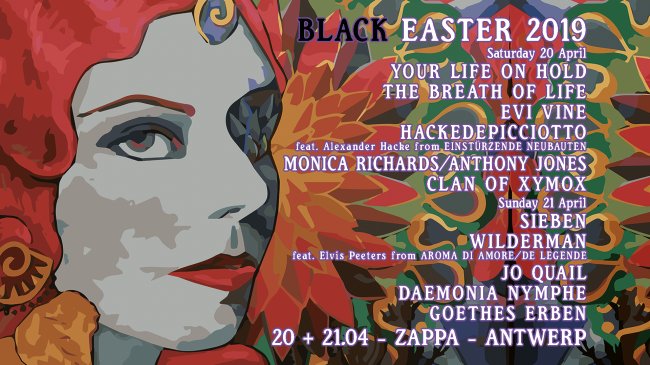 We are pleased to announce the return of...

Black Easter Festival, on April 20th & 21st 2019
In memory of Ward De Prins

First bands announced:
The Breath Of Life


Check and check-in on our facebook eventpage here!

ATTENTION! There are two ways of ordering your tickets
The 'old-school way:
Follow-up is done manually so this can take some days!
Select your desired event from the tickets dropdown menu above and fill in the form.
Payment is only possible by bank-transfer.
Your e-ticket will be send by e-mail after payment is received and confirmed.

The fast & fury way:
This is easiest way to buy your tickets is by using the (blue) ticketshop module at the bottom of this page!
You can pay instantly by credit card, PayPal, direct bank transfer.
You will get your e-ticket by e-mail immediately after payment!
OLD SCHOOL TICKET ORDERING
(Manual bank transfers & follow-up, try avoiding a hotmail e-mail address or be sure to check your spam folder before panicking )
NO PAYPAL!
ATTENTION!
Be sure to add tickets[at]bodybeats[dot]be to your contacts or to check your e-mail spamfolder! Especially if you are using hotmail!
Order your tickets for :


Black Easter 2019 - Combi Ticket
20/04/2019 TBA

BLACK EASTER

20 + 21.04.2019 - Location TBA

Two days ticket - Saturday 20th + Sunday 21st of April
Order now!

Ticket Prices:


Combi-Ticket Pre-sale (2 days): € 70
Combi-Ticket Box-office (2 days): € 80

Day 1 - Saturday 20th - Pre-sale: € 38
Day 1 - Saturday 20th - Box-office: € 45

Day 2 - Sunday 21st - Pre-sale: € 38
Day 2 - Sunday 21st - Box-office: € 45
---