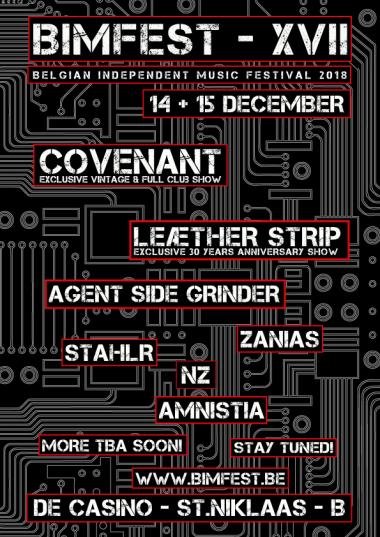 SAVE THE DATE!

BIMFEST XVII
14 + 15.12.2018 - De Casino - St-Niklaas - B
(THE Belgian Independent Music Festival since 2002)
It is with great pleasure that we may announce our 17th edition of our Belgian Independent Music Festival 2018 (BIMFEST) !
Like every year, we try to compile a varying and appealing line-up in the best 'BIMFEST tradition!
Here are our first confirmed acts (Alphabetical order):
---
AGENT SIDE GRINDER (SE)
Agent Side Grinder is an electronic band from Stockholm, Sweden, which was formed in 2005. The band has made four albums and toured extensively throughout Europe. Their first two albums, Agent Side Grinder (2008) and Irish Recording Tape (2009) were rooted in post-punk, industrial and dark electro. The band quickly gained an underground following throughout Europe.
Their third album Hardware (2012) showed a bigger and more textured sound and was met with universal acclaim. It was named "album of the month" in Vice Magazine, topped several annual "best of-lists" i and won the Manifest-award (Swedish indie-grammy) for best synth album in 2013.

In 2015 they released their magnum opus Alkimia, a dramatic and melodic album that exceeded the success of "Hardware" (another Manifest win and cemented Agent Side Grinder's position as one of Europe's leading synth-wave bands. The album contains a guest appearance by Nicole Sabouné.
Agent Side Grinder has a reputation of being a powerful and mighty live band.
Agent Side Grinder have just recently released the long awaited new and stunning video/single "Doppelgänger"
---
AMNISTIA (D)
AMNISTIA is a German electro/EBM duo who call the music they create BodyWave.
The band was founded in Leipzig by Stefan Schötz and Tino Claus. The latter is also know from EBM acts MRDTC and his solo project TC75.

The name AMNISTIA is both program and philosophy. In many languages it means amnesty. AMNISTIA releases from inactivity and gives freedom for creativity, it is an outlet and their work is the verdict of their minds transformed into sound.
Since 2003 they have done remixes for bands like Leæther Strip, Rotersand, Haujobb, AD:keY, Orange Sector and released several EP's six studio albums.

A new album is in the pipline!
---
CLOCK DVA (UK)
We are proud to announce Clock DVA will return to BIMFEST in 2018. CLOCK DVA have played BIMFEST already once before in 2011, stunning our BIMFES audience with their mesmerizing multimedia performance!
This time these electronic music pioneers, since 1978, will be performing an exclusive Belgian show with tracks from their legendary albums Buried Dreams, Man-Amplified, some new stuff and much more!

Facebook
---
COVENANT (SE)
Covenants 9th studio album, 'The Blinding Dark', was released in November 2016 and showed a remarkable development in style, something that Covenant definitely wanted to do with this album - and not least because of the subject that they dealt with on this album. With this release, this Swedish / German outfit has probably released their artistically most ambitious album so far. As many music lovers and critics agreed, this album was perhaps also their most obscure and moody album since their first two albums Dreams Of A Cryotank (1994) and Sequencer (1996).
Therefore it was a more than logical consequence that we at BodyBeats, after their successful The Blinding Dark Tour' passage in 2017, asked Covenant if they could be up to to the idea of presenting some gems from their first two albums to our BIMFEST audience. Being great admirers and supporters of BIMFEST, frontman Eskil Simonsson and his companions immediately agreed and started working. Of course, besides these lovely vintage songs, they will also play some of their most famous clubsongs to please their fans!
---
FIRST AID 4 SOULS (HU)
First Aid 4 Souls one of the electronic music projects founded by Hungarian musician Istvan Gazdag. with this project he mixes the brutality of noise music with the psychedelic pulsation of trance/acid, the rich melodies of new-wave / synth-wave and the strict grinding of electro industrial / EBM.
Recently he fired-up a brand new project called Stalgeist which has a more straight forward EBM sound. Together with Tamás Bank (Munkás/Worker) they summon the classic EBM sounds with harsh precision and commitment.
At BIMFEST they will present the best of both worlds to us as opener on Friday December 14th!
So be in time and don't miss out this unique performance of First Aid 4 Souls vs Stahlgeist!
---
GERTRUD STEIN (CH/UK)
Is the visual art & electro music project of the London based Swiss artist Gertrud Stein who drew our attention with her contribution to the Daft Records compilation 'Deep' and her subsequent successful, stunning and enchanting performance at the Daft Festival in Antwerp (2017).

Getrud Stein's live shows with her virtual live bandmembers Mike Line, Tom Delay and Diana D.I. are not to be missed!
---
LEÆTHER STRIP (DK)
It has been 30 years since the Dane Claus Larsen started his Leaether Strip project and released his debut on the now defunct Zoth Ommog label shortly afterwards. In addition to having more than a handful of side projects, this man has released already as many studio albums (30) under the Leaether Strip moniker.

No wonder he cant be ignored by dark music festivals and clubs from all over the world. That's we he played already at BIMFEST 2009 and the BodyBeats Festival 2011. And this year he is returning to BIMFEST 2018 to celebrate Leaether Strips's 30th birthday with a special and exclusive birthday's and career overview show!
---
LIEBKNECHT (D)
LIEBKNECHT is an alter ego from Daniel Myer, also known as head and voice from German 90's cultband HAUJOBB. LIEBKNECHT is Techno, Dance-floor Elements mixed with Dark Textures, Cryptic Messages, Eclectic Experimental Sounds and Straight Forward Beats, always on the Edge between Old-school Electro and Club Culture.
After some successful DIY teaser releases through Bandcamp the band has now signed to Lenny Dee's label Hard Electronic for the release of their debut album due to be released by the end of September 2018.
So, come dance your ass off on BIMFEST Day 1 with LIEBKNECHT!
---
LIGHT ASYLUM (USA)
Light Asylum is a NYC/Brooklyn-based electronic music project founded by Shannon Funchess. The band released their first EP 'In Tension' in 2010. The self-titled début album Light Asylum has been released in May 2012 and received positive reviews all over the world. Shannon collaborated with many artists as there are: The Knife, Douglass McCarthy (Nitzer Ebb) and ADULT.
Light Asylum's music incorporates elements of dark-wave, synth-pop and post-punk and is heavily influenced by bands like Depeche Mode, Nitzer Ebb and Nine Inch Nails.

In 2012 Light Asylum played the renowned Belgian Pukkelpop Festival, now it's time for BIMFEST !!!
---
NZ (A)
NZ is THE Austrian EBM revelation of the last years and is a band that doesn't seem to make any efforts to cover up who influenced them the most. Even their own band name can be taken as a clear reference to one of the biggest names in EBM music history Nitzer Ebb.
With their pounding beats, cutting sequencers and slogan-like vocals set every EBM fanatic in motion in no time. After their first DIY EP release 'Your Pure Heart,' the German Emmo.biz label signed them almost immediately, releasing another three very strong EPs. In 2015, these EP's were bundled in a 3 Cd collector box, so now we are looking forward to their new and first full album!
---
STAHLR (NL)
With so far only one EP to her name, this female Dutch electronic artist can be called already the discovery from the low lands. Stahlr is about contrasts and opposing, overwhelming futuristic forms of Brutalist architecture, masculinity, concrete versus wavy lines, subtle expressions and femininity. Stahlr sounds like Cocteau Twins playing a musical version of Mary Shelly's Frankenstein in a concrete parking garage.
Convince yourself, click on the links below, and be enchanted!
---

Check-in and see elso is going on our Facebook event here!
The pre-sale has already started, so hurry if you want to save some money!
Attention!
There are two ways to order your tickets ...
The 'old-school way:
Follow-up is done manually so this can take some days!
Select your desired event from the tickets dropdown menu above and fill in the form.
Payment is only possible by bank-transfer!
Your e-ticket will be send by e-mail after payment is received and confirmed.

The fast & fury way:
This is easiest way to buy your tickets is by using the ticketshop module at the bottom of this page!
You can pay instantly by credit card, PayPal, direct bank transfer.
You will get your e-ticket by e-mail immediately after payment!