Click here to read more (recent) news
---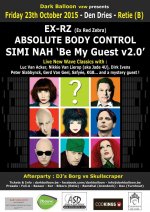 23.10 Simi-Nah 'Be My Guest' V2.0 + Absolute Body Control + DJ's BORG & Skullscraper @ Den Dries - Retie - B
09 June 2015 14:20
---
After the successful and sold out first edition of Simi Nah's 'Be My guest' concept night at De Casino (St-Niklaas) another 'Be My Guest' edition, V2.0 will take place at Den Dries (Retie, B) this time organized by Dark Balloon. On these 'Be My Guest' concept nights Simi-Nah invites several artists to come, play and sing along great cover-versions/remakes of some of the greatest New-Wave club Classics.
Most of the invited artists already appeared on the Simi Nah studio album 'Be My Guest' which was released in 2014 but also some new guests are invited to this edition.
To spice up the night no-one less than ABSOLUTE BODY CONTROL & EX-RZ will play a full live show!

The afterparty Waves & Beats will be provided by the DJ team BORG vs Skullscraper
Check in @ Facebook event
More info on the link below!
ABSOLUTE BODY CONTROL (B)
SIMI NAH (B)
[permalink]
---
Click here to read more (recent) news