Click here to read more (recent) news
---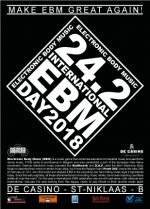 24.2 International EBM day @ De Casino - St Niklaas - B
22 August 2017 11:24
---
We are happy to announce our first 2018 BodyBeats Productions event!
As the title already gives away this will be a day on which we will celebrate one of our beloved music genres, Electronic Body Music! A dark but pounding music style, maybe not as such invented, but most definitely best fine-tuned and exploited, by our national EBM proud Front 242. Hence the date on which EBM fans over whole the world celebrate International EBM day >24.2< So mark the day in your agenda and come celebrate International EBM day with with several national & international EBM live acts. Of course this feast would not be complete without a pounding afterparty with beat
& waves spun by resident DJ BORG. Soon the first batch of confirmed bands will be announced! Tickets & more info will follow!
Tickets & Info / Check-in on our Facebook event here!
www.bodybeats.be/en/tickets/24-2-international-ebm-day
THE JUGGERNAUTS (B)
[permalink]
---
Click here to read more (recent) news