Click here to read more (recent) news
---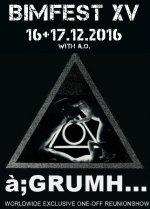 a;GRUMH... to play WORLDWIDE EXCLUSIVE SHOW @ BIMFEST 2016
04 January 2016 16:32
---
Yes, unbelievable but true ... One of Belgium's most weird but worldwide renowned electronic/EBM/industrial pioneer band à;GRUMH... has chosen BIMFEST for their ONE AND ONLY WORLDWIDE reunion show! That's right! This will be YOUR ONLY CHANCE EVER to see this band perform!
Of course more bands will be added to this already legendary 15th BIMFEST line-up in the next weeks!
Early bird tickets are strictly limited to 100 and will go on sale from Februari 1st!
[permalink]
---
Click here to read more (recent) news