Click here to read more (recent) news
---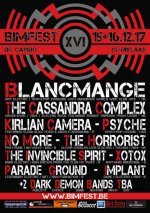 BIMFEST 2017 - Line-up complete! Warning ! Teaser / Spoiler alert!
10 April 2017 11:44
---
Yes! We did it again! The BIMFEST 2017 line-up is a fact! Soon the full line-up will be announced but while the BIMFEST website is under construction we like to tease you already a bit with this preliminary poster poster!
Be aware the Early Bird combi-ticket pre-sales have already started and and are strictly limited to 100 pieces!So save some cash and order your tickets now!
A soon as those are gone normal pre-sales combi-tickets (2days) and separate day tickets will go on sale at normal pre-sale prices.
www.bodybeats.be/en/bimfest-xvi
[permalink]
---
Click here to read more (recent) news