Click here to read more (recent) news
---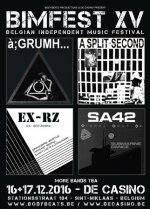 BIMFEST is looking for two Belgian opener bands!
22 February 2016 15:28
---
We're happy to announce that our line-up for BIMFEST 2016 is almost complete!
We only need to select 2 BELGIAN bands to open BIMFEST!
Therefore we will organise 2 pre-selection nights at Kavka on Saturday 4th & 18th of June.
So if you are interested to open BIMFEST, send us (BodyBeats Belgium) a private message (on Facebook) or E-mail with your information and email address so we can send you the general conditions.
Here are some rules to follow:
- You have to be a BELGIAN band
- Be available on at least one of the pre-selection dates
- Be available on the date of BIMFEST smile-emoticon
- Register before 1st of March!
This is your chance to play at BIMFEST, so bring it on! grin-emoticon
www.facebook.com/events/1655763288046142
A SPLIT-SECOND (B)
[permalink]
---
Click here to read more (recent) news