Click here to read more (recent) news
---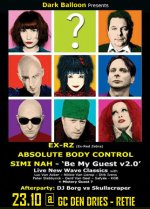 Check out the latest our e-mail newsletter!
21 October 2015 13:00
---
Click here link to read our latest newsletter.

As we all well know by now is that Facebook is NOT showing YOU what you WANT to SEE but what THEY WANT you to SEE! Infact, did you know Facebook only shows 10% our posts to our friends and followers?

Here is your chance to HACK THE SYSTEM and support us!
So click here to subscribe and win prizes every month!
[permalink]
---
Click here to read more (recent) news