Click here to read more (recent) news
---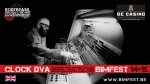 Clock DVA returns to BIMFEST 2018
22 August 2018 18:21
---
We are proud to announce Clock DVA will return to BIMFEST in 2018. CLOCK DVA have played BIMFEST already once before in 2011, stunning our BIMFES audience with their mesmerizing multimedia performance!
This time these electronic music pioneers, since 1978, will be performing an exclusive Belgian show with tracks from their legendary albums Buried Dreams, Man-Amplified, some new stuff and much more!

More info and media here!
[permalink]
---
Click here to read more (recent) news