Click here to read more (recent) news
---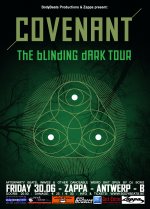 Covenant returns to Belgium after 5 years hiatus!
09 March 2017 14:59
---
After a hiatus of more than 5 years the Swedish Electro band Covenant returns to Belgium to present their latest and global critically acclaimed album 'The Blinding Dark'.

The last time they played Belgium was at the Rewind Festival (RIP) at De Vooruit Ghent. So we are extremly proud to announce they accepted our invitation to play at on of our regular venues, Zappa and this on Friday June 30th.

Like the tradition demands, there will be also a support band and afterparty added to this night.

The name of the support band has still to be announced but we know already DJ BORG will spin on the after-show party.
More info and tickets can be found on the link below.

Check(in) on our Facebook event page and see who else is going already!

www.bodybeats.be/en/tickets/30-06-covenant-zappa
[permalink]
---
Click here to read more (recent) news