Click here to read more (recent) news
---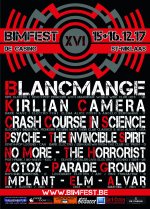 Crash Course In Science to replace The Cassandra Complex on BIMFEST 2017
12 October 2017 13:27
---
Unfortunately, today we have some bad news for you, but thankfully some of good news too!
Let's start with the bad news. Some days ago we received a message from The Cassandra Complex saying they have cancel their performance at BIMFEST 2017 due to the illness of one of their musicians. Sad, but health comes first so of course we wish him a lot of strength and a quick recovery!
The good news is, with a cancellation, there should always follow a new confirmation! And so, we are very pleased to announce that we have been able to convince the American Electro / Industrial pioneers CRASH COURSE IN SCIENCE to replace The Cassandra Complex on our BIMFEST.

CRASH COURSE IN SCIENCE is the band that's responsible for one of the most played and acclaimed 12"'s of the 80's, Signals From Pier Thirteen, featuring dance floor-fillers such as Cardboard Lamb and Flying Turns.
CRASH COURSE IN SCIENCE rebooted in 2009 with a stunning and thrilling come-back performance on BIMFEST2009. Since, this trio has been back on track and returned regular with an European tour. In 2015, for example, they also played at a sold out night at De Casino with (A Split-Second and Simi Nah). So if you want see them this time, you better order your tickets now!
CRASH COURSE IN SCIENCE (USA)
IMPLANT (B)
[permalink]
---
Click here to read more (recent) news