Click here to read more (recent) news
---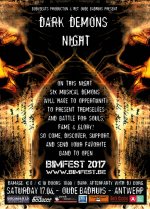 Dark Demon(n)s wanted to play BIMFEST 2017!
13 February 2017 16:04
---
We're happy to announce that also this year we will organize a Dark Demons Night.
The MOST IMPORTANT GOAL of this night is to GIVE BANDS A OPPORTUNITY to present themselves LIVE in the BEST CONDITIONS. This means on a REAL STAGE, with a PERFECT SOUND-SYSTEM and professional LIGHTS.

A pleasant extra of playing our Dark Demons nights is that the audience can choose 2 bands who may open BIMFEST 2017. Also good to know is that only 6 bands will be selected for this Dark Demons Night so your band will have a 1/3 chance to play BIMFEST too!

So if you are interested and you think your music style fits our festival, please send us (BodyBeats Belgium) a private message with your information and email address so we can provide you the general conditions.
Here are some requirements:

- Be available on June 17th
- Be available on the dates of BIMFEST (15 & 16 December)
- Register before 1st of March!

This is your chance to play at BIMFEST, so bring it on!

AND DON'T FORGET TAKING PART IS MORE IMPORTANT THAN WINNING!

PS: This year our Dark Demon Night is also open for foreign bands!
www.bodybeats.be/en/dark-demo-n-s-night
[permalink]
---
Click here to read more (recent) news