Click here to read more (recent) news
---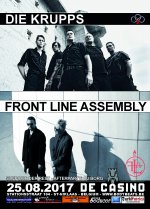 Die Krupps + Front Line Assembly @ De Casino - St - Niklaas - B
18 May 2017 17:26
---
We at BodyBeats Productions are very proud to announce you a newly confirmed double bill event featuring two of the most legendary electro-cross-over and EBM bands still who have been around for three decades and are still kicking ass today ... DIE KRUPPS + FRONT LINE ASSEMBLY!!!!!
DIE KRUPPS (D) are one of those pioneers of Electronic and Industrial music that inspired FRONT 242, NITZER EBB and many more ... With their first and very industrial sounding album 'Stahlwerksinfonie' and the forthcoming clubhit single 'Wahre Arbeit Wahrer Lohn' and the following albums 'Volle Kraft Voraus' and 'Entering The Arena', the foundation for Electronic Body Music was laid.
In 2015, DIE KRUPPS successfully released their fifth studio album 'V – Metal Machine Music' and now their V 1/2 release is imminent!
FRONT LINE ASSEMBLY is one of those influencial Canadian Electro-Industrial pioneer bands, formed by Bill Leeb after he left Skinny Puppy. Influenced by early electronic and post-industrial acts such as Cabaret Voltair, Portion Control , Test Department en Severed Heads FLA has developed its own sound while combining elements of EBM (Electronic Body Music). Also FLA has never disappeared from the underground scene and strikes back regularly with new , still hard hitting albums!
To see both bands on the same stage on the same night is a unique event! So don't miss out!
www.facebook.com/events/871389309665544
[permalink]
---
Click here to read more (recent) news