Click here to read more (recent) news
---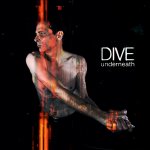 DIVE (Dirk Ivens) releases brand new studio album 'Underneath'
20 March 2017 17:12
---
Belgian electronic pioneer Dirk Ivens, also known for his work with Sonar, Absolute Body Control , Blok 57, S/HE and ex-singer of The Klinik, unleashes the eagerly awaited new album of his cult project DIVE. "Underneath" is another piece of dark minimalist Electro-art with an evolving sound.
After a hiatus of more than a decade (the last output was the complete backcatalogue released as a 8 cd boxset) Dirk Ivens' project DIVE finally returns with a new sign of life. For the new album "Underneath", he has again teamed up with Ivan Iusco (who he worked with on "Concrete Jungle") and Rafael M. Espinosa (his collaborator on "Behind The Sun".) The result is a maelstrom of minimalist Electronica that ranges from fascinating to unsettling and that no other act can quite accomplish in the same way: Stripped-bare rhythms, dark, machine-like sequencers, psychotic synth-sounds that are expertly intertwined with cleverly placed noise-attacks and the distinctive, feverishly manic and ghostly raw voice of Dirk Ivens towering above it all. Some tracks, like the groovy "Far Away" or the hammering "Something" have turned out surprisingly catchy, but as a whole "Underneath" is a menacing behemoth that relentlessly pulls the listener into its dark machine world. The album feels like a David-Lynchian fever dream, oscillating wildly between cutting Industrial-loops, dark Minimal-art and groovy Electronic-Body-beats that converge into a physical tour de force. In their effectively relentless reduction of their sound to the bare necessities, DIVE yet again manage to create a one-of-a-kind experience. "Underneath" is released on the German based label Out Of Line on CD and as a limited LP edition in classy dark green vinyl, containing the CD in a slip case as bonus.

UNDERNEATH - Track Listing CD / LP :

1. Underneath
2. Far Away
3. Sacred Skin
4. Let Me In
5. From Behind

6. Something
7. Howling Ground
8. A Man Came
9. Melt
10. I Want You
With a minimum on equipment, armed with a minidisc, megaphone and two stroboscopes, Dirk Ivens creates a maximum of power and he proved worldwide on many stages that less means more.
DIVE - UNDERNEATH - Tour 2017 - Part One
21 APRIL De Nieuwe Nor / Heerlen - Netherlands (+ Whispering Sons)
22 APRIL JH 2470 / Retie – Belgium (+ Stin Scatzor + Akalotz + KnK)
29 APRIL Rockcafe / Prague - Czech Republic (+ The Invincible Spirit + Psyche + The Saint Paul)
30 APRIL Gozsdu Mano Klub / Budapest – Hungary (+ The Juggernauts + True Zebra)
06 MAI Madame / Sao Paulo – Brasil (+ The Force Dimension + The Juggernauts)
12 MAY Stellwerk / Hamburg – Germany ( + The Juggernauts + TC75 )
13 MAY Das Bett / Frankfurt – Germany (+ 2nd Face + Full Contact69)
26 MAY Lygten Station / Copenhagen – Denmark
27 MAI Slimelight / London – U.K (+ Gertrud Stein)
09 JUNE Synth After Work / Stockholm – Sweden (+ The Juggernauts)
10 JUNE Musikens Hus / Gothenborg – Sweden (+ The Juggernauts)
DIVE (B)
[permalink]
---
Click here to read more (recent) news