Click here to read more (recent) news
---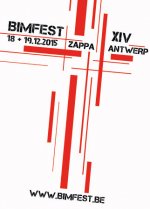 First two BIMFEST 2015 bands announced!
24 June 2015 19:13
---
Yes! We did it again! The BIMFEST 2015 line-up is complete and here are the two first bands!
TREPANERINGSRITUALEN (SE)
Trepaneringsritualen explores themes of religion, magick and the occult realms of consciousness, taking its musical cues from the old school of ritual ambient & death industrial. Rhythmic and seething at times, and oozing forward with a creeping sense of desolation, Trepaneringsritualen conjures forth bleak but mesmerizing visions of the end-times.
https://www.facebook.com/Trepaneringsritualen
THE ARCH (B)
This Belgian cult band
https://www.facebook.com/thearchband
More bands & info will be announced soon!
ONLY 100 EARLY BIRD TICKETS AVAILABLE!
By now, save up to € 10 / ticket or even € 20 / combi-ticket!

Check-in on our facebook event here!

[permalink]
---
Click here to read more (recent) news