Click here to read more (recent) news
---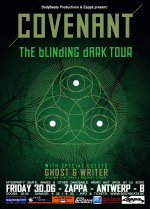 Ghost & Writer confirmed as support for the Convenant show in Antwerp!
16 March 2017 12:42
---
We are happy to announce Ghost & Writer will be supporting Covenant on their exclusive Antwerp clubshow.
Ghost & Writer is a project from Frank M. Spinath (Seabound/Edge Of Dawn) and Jean-Marc Lederman (The Weathermen, etc), who made their live debut in 2016 at the JH Wommel (Antwerp) last year. A concert that was very well received by all!

The live set will see them playing songs from their two albums out on Dependent and Metropolis ("Shipwrecks" and "Red Flags", the latter being heralded as a true masterpiece by many reviewers, plus some audio surprises.
www.bodybeats.be/en/tickets/30-06-covenant-zappa
[permalink]
---
Click here to read more (recent) news