Click here to read more (recent) news
---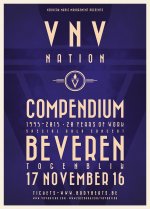 Last 50 tickets for VNV NATION - Compendium Tour show on November 17th @ Togenblik (Beveren, B) on sale now!
12 October 2016 14:04
---
The evening with VNV Nation: In celebration of the 20th Anniversary of the first VNV Nation album, and where the group will be celebrating with a 3-hour during concert is about to sell out in the next hours/days. On this show VNV Nation will take their fans through the complete history of the band, covering songs from every album and single, along with rarities and last but not least with a meet and greet after the concert.
So if you don't have your tickets yet - Hurry up and click the link below to order!
www.bodybeats.be/en/tickets/17-11-vnv-nation
[permalink]
---
Click here to read more (recent) news