Click here to read more (recent) news
---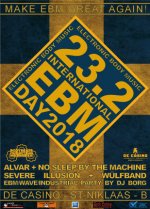 Line-up International EBM Day (-1) complete!
03 December 2018 13:58
---
After the succes of our very first International EBM day edition earlier this year we decide to do it again in 2019. Although our first edition was very international, we chose this time to have a 100% Swedish line-up by inviting some the best EBM/Electro acts Sweden has to offer these days.

Let us introduce them shortly (if still needed):
WULFBAND is from the Swedish capital Stockholm founded in 2014 by a masked duo who sings / shouts in German and officially call them self Sieben & Neun. For reasons that our not affairs, the band prefers to work with an anonymous creative image instead of putting their personal identities first. As far as music is concerned, it can be argued that it is inspired by the early post-punk DAF, and when you feel the urge to comment on their German pronunciation, know well that these gentlemen are quite capable of inflicting serious damage ... Whether or not auditive ... Wulfband describe their music as "Gewalt-Tanz und Angriffe gegen Alles"
ALVAR does not needs an introduction to the regular BodyBeats ranters, as they performed already twice for us in 2017. The first time they played the Dark Demons night (Antwerp) where they overwhelmed friend and foe claiming their well deserved opening spot at BIMFES 2017. Also on BIMFEST they caught the attention with ease. According to some, their music is situated between dark, sometimes lingering dark electronics and sometimes pounding EBM. Connoisseurs even claim their music to be reminiscent of early releases of the cult label Cold Meat Industrial.
NO SLEEP BY THE MACHINE stands for energetic and pumping live performances, so no wonder they they have also played BIMFEST before in 2013. Their music is rather an uncompromising complaint against injustice and figth more freedom in our society. Now, after several years of inactivity, the band is back now and is working hard on a new album. In the meantime you can still discover their slightly fantastic previous albums Close, Quadrilateral, Splice on their Bandcamp.
SEVERE ILLUSION was founded in 2000 by Fredrik Djurfeldt and Ulf Lundblad and released five albums, an EP, and more since. It's clear this band is also popular outside their home country, as proves by the the impressive list of the band's outbound performances over the years ... Germany, Russia, Chile, Hungary, Ukraine, Slovenia, Poland, Czech Republic, UK, Uruguay, Brazil, Canada and Denmark ... and now for the second time in Belgium! Their mix of dark harsh electro with EBM influences draws many to the dance floor.

DJ BORG
Of course, this EBM feats would not be complete without an pounding after party by resident DJ BORG.
www.bodybeats.be/en/tickets/23-2-international-ebm-day
[permalink]
---
Click here to read more (recent) news