Click here to read more (recent) news
---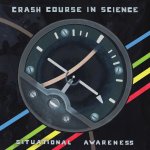 New Wave Club Classic band Crash Course In Science strikes back with new bomb album!
14 September 2017 16:00
---
Indeed, today we received the great news that the men and woman of the 80's Electro - Industrial Music and Art Formation Crash Course In Science have their new album ready for release. This in Philadelphia / New York based pioneer band is responsible for the cult classic and 12 " Signals From Pier Thirteen" which was released 1981, and includes dance floor fillers Cardboard Lamp and Flying Turns.
So today, they announced their second studio album Situational Awareness is ready for release by the Dutch Clone records. The album will be available on vinyl as well as digital and contains 10 brand new songs composed in the real Crash Course In Science tradition!
Of course you do not have to believe blindly, so go listen to some samples on this link!
Soon you can also expect a comprehensive review of this album on Peek-a-Boo Magazine!
www.bodybeats.be/en/artists/crash-course-in-science-usa
CRASH COURSE IN SCIENCE (USA)
[permalink]
---
Click here to read more (recent) news