Click here to read more (recent) news
---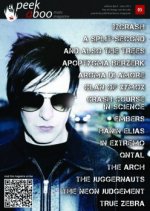 Peek-A-Boo Magazine nr 5 out now!
02 April 2012 19:43
---
The 5th PEEK-A-BOO magazine is ready.!
You can take a subscription on our magazine to receive it automatically, but you can ofcourse always obtain your copy for free at the better parties, concerts and (record) shops.
You can also read the magazine online through the link below.
PAB 5 Content:
Reviews:
AGENT SIDE GRINDER : Hardware
BENE GESSERIT : A High, Happy, Perverse And Cynical Cry Of Joy
CLAPS : Wreck
DER NOIR : A Dead Summer
HUSSEY/REGAN : Hussey/Regan
LES MAITRES : Les Maîtres
MOTOR : Man Made Machine
NEON ELECTRONICS : Keylogger
RABIA SORDA : The Art Of Killing Silence
REVOLTING COCKS (THE) : Got Mixxx?
SOPHYA : Words & Sounds
THE BEAUTY OF GEMINA : Iscariot Blues
THE EDEN HOUSE : Timeflows
THE FALL : Ersatz GB
VARIOUS ARTISTS : Till Dawn Do Us Part / BE

Interviews:
32CRASH
A SPLIT-SECOND
AND ALSO THE TREES
APOPTYGMA BERZERK
AROMA DI AMORE
CLAN OF XYMOX
CRASH COURSE IN SCIENCE
EMBERS
HANIN ELIAS
IN EXTREMO
QNTAL
THE ARCH
THE JUGGERNAUTS
THE NEON JUDGEMENT
TRUE ZEBRA
www.peek-a-boo-magazine.be/en/magazines
A Split-Second
Crash Course In Science
Neon Electronics
The Juggernauts
[permalink]
---
Click here to read more (recent) news