Click here to read more (recent) news
---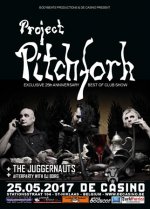 Project Pitchfork - Best Of - Show + The Juggernauts @ De Casino, St Niklaas, B
20 February 2017 17:41
---
After their amazing headlining performance at BIMFEST 2015 and on high demand by both the band and their fans we are proud to bring them back to Belgium, this time for an exclusive Belgian 25 anniversary 'Best Of' club showat the wonderful venue De Casino, St-Niklaas, B

Project Pitchfork is a German electro band, founded in 1990 in Hamburg. It is among the most successful and influential representatives of the dark electro genre, which one characterizes decided since the early nineties and led to unprecedented results. The two driving forces behind the band until today Peter Spillesand Dirk Scheuber. Because Peter came from Hamburg, and Dirk came from the new federal Eastern states, Project Pitchfork band are considered first "German-German" band at all.
In November 2016 Project Pitchfork released their 16th studio and critically aclaimed album 'Look up, I'm Down Here'.
Project Pitchfork on Facebook
Project Pitchfork on www

---
Belgian NU-EBM heads The Juggernauts will have the honor to open this night presenting their latest album 'The Juggernauts Are Coming'.

The Juggernauts on Facebook
The Juggernauts on www

---
Don't forget to check-in on our Facebook event here!
www.bodybeats.be/en/tickets/25-05-project-pitchfork-best-of
THE JUGGERNAUTS (B)
[permalink]
---
Click here to read more (recent) news