Click here to read more (recent) news
---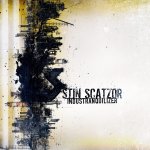 STIN SCATZOR released new album Industranquilizer on DAFT Records
30 January 2018 16:09
---
Stin Scatzor was formed and started as a one-man-project by Stefan Bens. In 1990 he started out with only one keyboard, creating his own industrial/experimental music. Although Stefan's first 'live' experiences happened with Lescure 13 (A project with Johan Van Roy aka Suicide Commando). In 1998 they released their debut cd 'Industronic'
Trough the years the sound of Stin Scatzor evolved to a much more mature sound and in 2001 Kris Peeters (Guitars and producing) joined the band. The addition of distorted guitar sounds, on their new releases as well as on stage, give Stin Scatzor a very unique and aggressive industrial sound. Their latest industrial attack is called 'Industranquilizer'.
Releasedate 17 February 2018
Book the band now on your stage and drop us a line @ info@thisdomain.be (replace thisdomain by bodybeats) for more information!
soundcloud.com/daftrecords/sets/stin-scatzor-industranquilizer?utm_source=soundcloud&utm_campaign=share&utm_medium=facebook
STIN SCATZOR (B)
[permalink]
---
Click here to read more (recent) news