Click here to read more (recent) news
---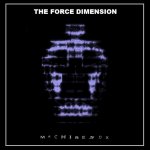 The Force Dimension kick-off 2017 with new album!
02 January 2017 14:34
---
Every new year traditionally kicks-off with tons good intentions and promises but some put their money where their mouth is!
The Force Dimension & Daft Records decided to kick-off 2017 with the release of a brand new album!

THE FORCE DIMENSION - Machinesex (D1067CD)

20 years went by since the last release from this cult band but the waiting is over ! René van Dijck (synthesizers, vocals) and Betty Correa (vocals, guitar, percussion) presents you 13 brand-new tracks produced by the band themselves and mastered by Eric Van Wonterghem.
This album is a joined collaboration between Daft Records and the Noise Democracy Records label from Brasil.
The official release-date is set for Januari 22nd 2017 so be aware!
THE FORCE DIMENSION (NL)
[permalink]
---
Click here to read more (recent) news