Click here to read more (recent) news
---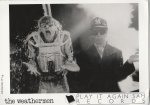 The Weathermen singer Bruce Geduldig passed away (RIP)
08 March 2016 14:19
---
Today we received this sad news from Bruce's partner in crime, Jean-Marc Lederman, of The Weathermen.
"Bruce Geduldig (left) passed away yesterday, on his 63rd birthday,
​at
his Sacramento house.
He was known as the singer of iconic band The Weathermen.
He was also a member of the SF band Tuxedomoon.

He'll be remembered as a great fun guy,
​very good lyricist, ​
witty, clever, astute and very sharp.
A swimmer, too, he loved swimming.
Singer and lyricist of The Weathermen, he penned the classic industrial song "Poison" , "Bang" and "Punishment Park".
Godspeed Bruce."
Also we at BodyBeats grief this loss...
He was a pleasant, easygoing artist we loved to have on our stage.
Rest in Piece Bruce!
ᐧ
www.youtube.com/watch?v=KX9dp-sSTSY
[permalink]
---
Click here to read more (recent) news