Click here to read more (recent) news
---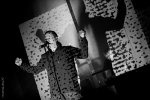 UNDERVIEWER, the pre-Font 242 project of Jean-Luc De Meyer & Patrick Codenys confirmed @ BIMFEST
02 May 2016 19:16
---
We are happy to announce to you our next confirmed band for BIMFEST 2016… UNDERVIEWER!
As fanatic FRONT 242 fans & ranters know already, UnderViewer is actually the pre-FRONT 242project of Jean-Luc De Meyer (head and voice) and mastermind Patric Codenys (keyboards, composer and producer) from before they merged with Daniel B's Prothese to form on of the most successfull and legendary electronic bands FRONT 242.
Until this day, UnderViewer never found the time and opertunity to released an full album but this will change this year!

While FRONT 242 is taking a sabbatical year, the duo decided the time was ripe to release, come and present their first full album 'Wonders and Monsters' at BIMFEST 2016!
2016.bimfest.be/en/bands/underviewer
[permalink]
---
Click here to read more (recent) news