Click here to read more (recent) news
---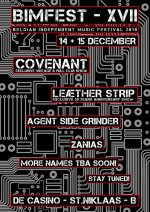 ZANIAS confirmed for BIMFEST 2018
04 June 2018 17:01
---
ZANIAS (AUS/D)

The stunning voice and frontlady of former Linea Aspera and Keluar returns to BIMFEST 2018 for an exclusive Belgian show with her new electronic solo project Zanias!
Zanias was born in Australia, raised in South-East Asia and now resides in Berlin. She was once known as the head and voice of bands Linea Aspera and Keluar, and now performs and DJs as a solo artist as Zanias.
Her debut EP 'To the Core' was produced in collaboration with Alex Akers of the band Forces, a process which was completed in a dilapidated beach house on Australia's desolate and wild southern coast in February 2016, and released in September on Austrian label Noiztank. Tying together industrial rhythms and unearthly vocals, the four tracks explore an intrinsically human journey through loss and upheaval.
In addition to performance and production, Zanias is a member of Berlin's Fleisch collective, an amalgam of DJs with primary careers as musicians and designers, and a taste for Electronic Body Music, New Beat, Industrial, Acid, and the darker, wavier fringes of techno. In 2016 their parties gave way to the founding of a record label, which made its debut with Schwefelgelb's body music masterpiece 'Wie Die Finger Durch Den Nebel'.
Zanias - Follow the Body (video)
Zanias - Through This Collapse (video)
---
More names will be unleashed soon so stay tuned or even better subscribe to our monthly newsletter here to stay informed!

Check-in and see elso is going on our Facebook event here!
The pre-sale has already started, so hurry if you want to save some money!
Buy your Early-birds Combi-Ticket today and save some cash!
The very limited and special priced Early-birds tickets are only meant for our true and loyal supporters who put their faith blindly in our BIMFEST programming.
Keep in mind only 100 Early-birds COMBI-tickets are available so be fast.
[permalink]
---
Click here to read more (recent) news