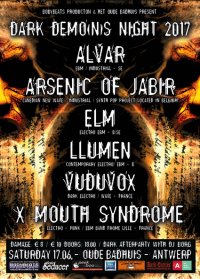 Order your tickets for :


Dark Demons Night
17/06/2017 Het Oude Badhuis - Antwerpen

17.06 DARK DEMONS NIGHT 2017 @ Het Oude Badhuis, Antwerp, B

ALVAR (EBM/ Industrial - SE)
ARSENIC OF JABIR (Wave/Industrial/Syth - CAN/B)
ELM (EBM - SE/B)
LLUMEN (Electro/EBM - B)
VUDUVOX (Dark Electro/Wave - FR
X MOUTH SYNDROME (Electro-Punk/EBM - FR)

More info:
Dark Demons Night - FaceBook event
Dark Demons Night - Band Info & Tickets
www.bimfest.be

18:00 Doors / 18:30 1st band / 00:00 - 02:00 Demonic afterparty beats with DJ BORG

Performance order:
The performance order of the bands will be decided at the night itself by drawing lots.

The BIMFEST selection :
Each visitor will receive a vote bill on which they have to give EVERY BAND a rating. From 6 points (best) to 1 (less best). Incomplete vote bill are not valid! In this way EACH band will have a FAIR chance to open BIMFEST 2017. But in the end, as every musician knows, playing is more important than winning!

So get out of your lazy couch and come make a difference!

Please note there are two ways of ordering your tickets!

The 'old-school' way: Follow-up is done manually so this can take some days!
Fill in the order form right below this text module.
Payment is only possible by bank-transfer.
Your e-ticket will be send by e-mail after payment is received and confirmed.

The fast & fury way:
This is easiest way to buy your tickets is by using the (blue) ticketshop module at the bottom of this page!
You can pay instantly by credit card, PayPal, direct bank transfer.
You will get your e-ticket by e-mail immediately after payment!
---