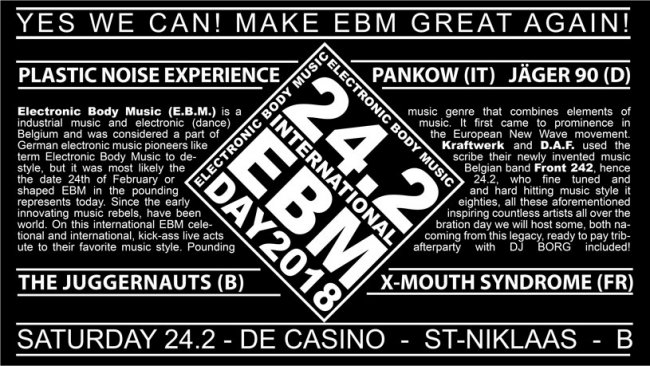 with live performances by
PLASTIC NOISE EXPERIENCE (D)
PANKOW (IT)
+ 3 more TBA
As the title already gives away this will be a day on which we will celebrate one of our beloved music genres, Electronic Body Music! A dark but pounding music style, maybe not as such invented, but most definitely best fine-tuned and exploited, by our national EBM proud Front 242. Hence the date on which EBM fans over whole the world celebrate International EBM day >24.2<
So mark the day in your agenda and come celebrate International EBM day with with several national & international EBM live acts. Don't expect Kraftwerk, DAF or the aforementioned pioneers but a fine selection of their legacy!
Of course this feast would not be complete without a pounding afterparty with beats & waves spun by resident DJ BORG

Soon more bands will be announced
Tickets: € 24,2 (presale) / € 28 @ doors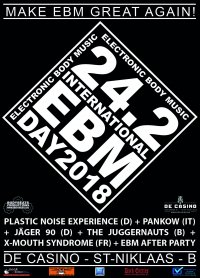 Order your tickets for :


International EBM Day
24/02/2018 De Casino - St-Niklaas - B
24.2 INTERNATIONAL EBM DAY 2018
De Casino -St-Niklaas - B
PLASTIC NOISE EXPERIENCE (D)
PANKOW (IT)
+ 3 MORE TBA SOON!

Tickets € 24,2 (presale) / € 28 (doors)
---
ATTENTION! There are two ways of ordering your tickets ...
The 'Old-School' way (use the fill-in order form ABOVE).
Follow-up is done manually so this can take some days!
Payment is only possible by bank-transfer.
Your e-ticket will be send by e-mail after payment is received and confirmed.

---
The Fast and Furious way (use the order module BELOW)
The is fhe fast & easy way to buy your tickets is done by using the online order mudule below!
Here you can pay directly by credit card, PayPal, direct bank transfer and you will get your e-ticket immediately!