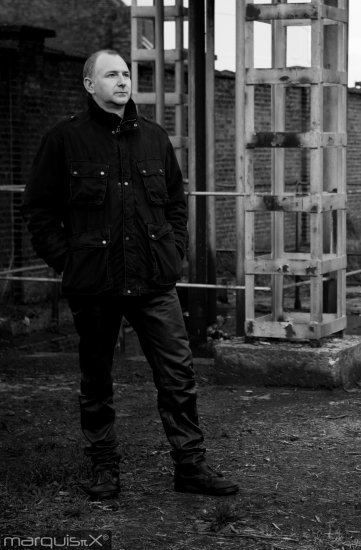 DJ BORG is the DJ alter ego of Peter Mastbooms aka BORG. BORG entered the music scene as a DJ somewhere in 1985, spinning his favorite darkish electro and wave tunes at a local bar in his hometown. Due the overwhelming success of those nights the decision to open their own club was made soon after. BORG became resident DJ and co-founder of the now renowned cult and New -Wave club The Phantom in the North of Antwerp, Belgium. It's on the attic of this club that BORG, together with some friends, started his firstband called 'The 4 Horsemen of the Apocalypse'. It's also in this club BORG will promotes his first concerts like for instance The Klinik, Insekt, Typis Belgis, E!Trunchon, Schicksal, ... to name a few.
Around 1992, T4HOTA were revamped and renamed as 'The Lance of Allotment'. These bands knew enjoyed some local success and played as support for bands like DIE KRUPPS, DIVE and THE NEON JUDGEMENT. Not much later BORG became a regular sound engineer for bands like A SPLIT-SECOND, CRASH COURSE IN SCIENCE, DIVE, INSEKT, THE KLINIK, SONAR, MONOLITH, THE NEON JUDGEMENT, NEON ELECTRONICS, SNOWY RED, IMPLANT, 32CRASH and occasionally also for HOCCICO, PORTION CONTROL, PROCEED, RABIA SORDA, SHEEP ON DRUGS, MARTIN DEGVILLE'S SIGUE SIGUE SPUTNIK, SERVERED HEADS, SUICIDE ... to name a few ... and became the resident DJ on the regular BODY BEATS parties, festivals and concerts.
In 2010 BORG joined THE KLINIK on stage, taking care of the band's live video/efx and founded his own NU-EBM project THE JUGGERNAUTS.
DJ BORG's DJ sets contain a mixture the best danceable weird shit out there! Spinning and mixing a wide variety of genres going from from Elektro - Klash – Minimal - Alternative - Indie - Wave – Noise & Crossover Industrial and more!
Besides spinning as resident DJ at BodyBeats events, DJ BORG also assimilated crowds on concerts, festivals and parties worldwide ...
Below a short list & UNCOMPLETE of some past & worldwide DJ assimilation session (alphabetically) ...
Audio Delicateses - Sao Paulo - Brazil
Bar Mondial - Antwerp - B (+10)
Black Easter Festival, Antwerp, B (3x)
BodyFest Festival @ Nalen - Stockholm, SE (x3)
BodyBeats Night @ Klick Club – Berlin – D
Botanique - Brussels
Blue Hole – Budapest - Hungary
Casino (De), St-Niklaas, B (20x)
Club Audio Delicatessen – Sao Paulo - Brazil
Club K17 – Berlin – D
Club Petrol - Antwerp - B
Dark Flower club - Leipzig - D (X2)
Dour Festival – Dour - Belgium
Familientreffen IX – Sandersleben – D (X2)
Felsenkeller, Leipzig, D
Fetis Cafe - Antwerp - B (x3)
Hof Ter Lo, Antwerp, B (9x)
Infest – Bradford - UK (3x)
Maschienenfest @Turbine Halle – Oberhausen - D
Out Of Line Weekender, Berlin, D (2x)
Reithalle / Bunker - Dresden - D
Tinnitus Festival – Stockholm – Sweden
Trix, Antwerpen, B (12 x)
Via Underground @ Club Cambridge – Sao Paulo – Brazil
Wave-Gothic-Treffen – Leipzig – D (5x)
Wommel (De), Fort II, Wommelgem (8x)
Wroclaw Industrial Festival – Wroclaw - PL (2x)
...
Upcoming DJ BORG actions > Facebook