Click here to read more (recent) news
---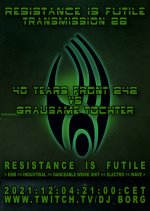 04.12 Transmission 26 by DJ BORG feat. 40 years of Front 242 & Grausame Töchter
03 December 2021 14:36
---
In order to try and compensate a little the pain and sorrow caused by the cancelled Belgian shows of Front 242 (Brussels) and Grausame Töchter (Antwerp) we convinced our resident DJ BORG to stand and deliver for YOU anyway! So tune in Saturday 4 December between 21h and … the early hours. For this special occasion BORG will spin at of 242 and Grausame Töchter tracks in between his "normal" eclectic danceable weird shot selection!
This streaming is easy to lock on to and it's FREE / GRATIS / GRATUIT! Just click on the link > www.twitchTV/DJ BORG and the music/party enjoy!
Come & dance into the night with pounding beats, darkish stormy waves and more danceable weird shit spun by BodyBeats & BIMFEST resident DJ BORG!
Expect to hear some various exclusive unreleased tracks, assimilations and interpretations by DJ BORG and the usual exquisite music selection!
RESISTANCE IS FUTILE!
Procedure:
Go to www.twitch.tv/dj_borg
No login or registration required!!!
However, if you wish to join our ever growing community and chat live with us, or with your distant friends from all over the world, you can also create a simple user account.
Fast and easy access, no credit cards, no fill-in, forms, no questions, no strings attached ... Just a nickname and e-mail and you are ready to join in the cha(n)t!
www.facebook.com/events/1292553437856339
[permalink]
---
Click here to read more (recent) news