---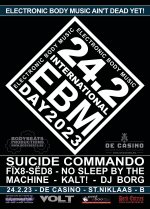 SUICIDE COMMANDO to replace F/M on International EBM day - 24.2.2023 - De Casino - B
25 January 2023 11:50
---
To our great regret we learned yesterday FIXMER/MCCARTHY unfortunately has to cancel their European tour due to the cancelation of a major festival in Germany. Fortunately, in case of such last minute cancellations, we can always rely on many of our musical friends! This time on JOHAN VAN ROY with SUICIDE COMMANDO came (again) to rescue! Suicide Commando can be considered one of the most successful Belgian EBM export products since decades! At BIMFEST 2019 they blew the roof of De Casino and we have no doubt that they will succeed in this again at our International EBM day!
We're sorry for any inconvenience this may have caused but it was beyond our will so we hope we can still count on your support and looking forward to see you all at our International EBM day celebration!
More info & tickets on the link below!
www.bodybeats.be/en/international-ebm-day-2023
[permalink]
---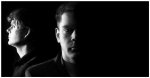 QEK JUNIOR on Bodies & BEATS ... TWICE (10.02 + RITUAL HOWLS & 12.02 + ZANIAS) @ Fetish Cafe - Antwerp
19 January 2023 16:03
---
We are please to announce German minimal wave band QEK JUNIOR will spice up both of our February Bodies & Beats nights, this on Friday 10th (With RITUAL HOWLS) and Sunday 12th (with ZANIAS)! QEK JUNIOR promised us to play a totally different setlist, one each night! So double the fun an be there twice!
Be warned, the capacity at our cosy Fetish Cafe is STRICTLY LIMITED! No dresscode required! Just come as you are!
[permalink]
---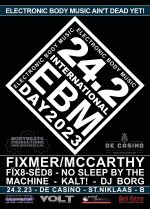 FIXMER/MCCARTHY to headline International EBM day @ De Casino on 24.02.2023
20 December 2022 20:12
---
We are pleased to announce FIXMER/MCCARTHY will headline our 2023 International EBM day festival!

F/M is a project from french electro/techno producer Terence Fixmer and Nitzer Ebb's head & voice and founding member Douglas McCarthy, simply called Fixmer/McCarthy.
Terence Fixmer, a world renowned techno artist , has been involved in the techno scene for more than 10 years. In 1998 he signed to Gigolo Records and has gone on to have many hits such as 'Electrostatic', 'Body Pressure', 'Electric Vision' and the album 'Muscle Machine' (voted as the top 3 album of the year for Groove Mag).
Nitzer Ebb, an avant-guarde electronic band, started in England in 1982 signing to Mute Records in 1986 after releasing a string of instant global club hits on their own label.
Douglas Mc Carthy brought the raw power of his voice Nitzer Ebb, along with an amazing stage performance seen all over the world with the brilliant Nitzer Ebb live show that was always full of the tension and rage of hits such as 'Let Your Body Learn', 'Join in the Chant', 'Control I'm Here', and 'Getting Closer' – tracks that are still as popular today as then.
These combined forces guarantee amazing and explosive stage performance!
F/M is a project from french electro/techno producer Terence Fixmer and Nitzer Ebb's head & voice and founding member Douglas McCarthy, simply called Fixmer/McCarthy. Terence Fixmer, a world renowned techno ar
[permalink]
---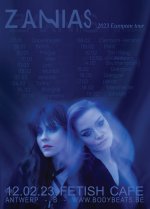 ZANIAS @ Bodies & BEAS VIII - 12.02.2023 @ Fetish Café - Antwerp - B
13 December 2022 15:59
---
We at BodyBeats are proud to announce ZANIAS is passing by Antwerp once again for another VERY EXCLUSIVE & VERY LIMITED CLUB concert!
Since 2014, Zanias has existed as the unrepentant creative venture of Alison Lewis, born in Australian, raised in Southeast Asia, and also known for her vocal work with Linea Aspera, Keluar and a record shelf's worth of collaborations with the likes of Black Rain, Ancient Methods, Dax J and I Hate Models. As the sole custodian of Fleisch Records she spent many years attuning herself to Berlin dancefloors through the timely collision of techno and electronic body music, but her true passion is for understanding the modality of emotions through songwriting. Sound is her psycho-spiritual catharsis, expressed through an intense and ethereal vocal performance, evocative melodies and heavy rhythmic components. With dark synth sounds at the fore, a pop sensibility commands the structure or her work, while authenticity and vulnerability subsume the core.

Now, for those who are not yet familiar with our Bodies and Beats concept, don't be scared of the unknown ... Remember there are worse places on earth to be these days!

Also good to know ... no dresscode whatsoever is required but some kinkiness is always appreciated! However our gatekeepers & doorb*tches may reward the most daring, special & kinky ones with some free cocktails!
Warning! This is an 18+ club!
BDSM performances might take place during the event (not a promise though) in the main play room while the bar area will remain a pretty chaste purgatory!
Time-schedule (Subject to change):
21:00 Doors
22:00 ZANIAS
+ Aftershow party beats & waves by DJ BORG
Tickets are VERY limited - ONLY 70 tickets will be available!!!
www.bodybeats.be/en/tickets/10-02-zanias-bodies-beats
[permalink]
---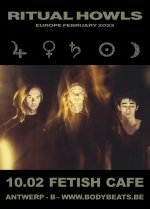 RITUAL HOWLS confirmed for BODIES & BEATS VII @ Fetish Café - Antwerp - 10.02.2023
11 December 2022 15:52
---
Bodybeats Productions, Fetisgh Café & Swamp Booking proudly present the February tour Ritual Howls who are gearing up for their latest release via Felte Records

Ritual Howls Detroit's Ritual Howls blend elements of post-punk, industrial, soundtrack, and musique concrète into stark yet enveloping music. Featuring Paul Bancell (vocals, guitar), Chris Samuels (synth, samples, drum machine), and Ben Saginaw (bass), the trio issued its 2012 self-titled debut album on Urinal Cake Records and a series of cassettes on Nostilevo in 2012 and 2013. After signing to Felte Records, the band's second album, Turkish Leather, arrived in September 2014. Two years later, Ritual Howls returned with Into the Water, which emphasized their country influences as well as their pitch-black moods. 2017 saw the release of Their Body, a five-song EP of atmospheric post-punk and dark wave-inspired songs. The Detroit trio's fourth full-length Rendered Armor was released in 2019 follows the Their Body EP with expansive arrangements sculpted with masterful production. The band are reissuing their ten year old self-titled debut album on Felte this year with plans for a fifth album in mid-2023
www.bodybeats.be/en/bodies-beats
[permalink]
---