Click here to read more (recent) news
---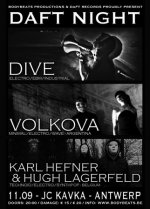 DAFT RECORDS NIGHT with DIVE, VÖLKOVA + Karl Hefner+ Hugh Lagerfeld!
01 August 2015 14:43
---
BodyBeats productions & Daft Records proudly present:
DIVE
Electro/EBM/Industrial - Exclusive Dirk Ivens career overview set - B
Facebook / Video
VOLKOVA
Minimal/Electro/Wave - Argentina
Facebook / Video
KARL HEFNER & HUGH LAGERFELD
Technoid/Electro/Wave - Belgium
Facebook / Video
The recent boost of yet again interesting releases on the renowned Belgian record label DAFT RECORDS brought us to the idea of putting some on those released bands together for an event.


The first band on this night will be Karl Hefner & Hugh Lagerfeld, a rather new Belgian project, who just released their debut album 'Syntax Error' on Daft Records. The second bands is VÖLKOVA, the Argentinian band Minimal/Wave band, who recently released 'Sangre' on Daft Records. A sort of compilation album containing long deleted, hard to find releases and some exclusive tracks.


And while we are at it, why not invite the label owner & boss Dirk Ivens himself with one of his many projects, DIVE. A set-list overviewing the whole career of this artist, featuring tracks form most of his involved projects, and the recent blasting performance at the German EBM festival Familientreffen and the Canadian Terminus Festival are reasons enough for us!

So if you wanna see this exclusive live shows and hear some never before performed songs by Dive .. Live ... Then be There!
www.bodybeats.be/en/tickets/11-09-daft-records-night
DIVE (B)
[permalink]
---
Click here to read more (recent) news