Click here to read more (recent) news
---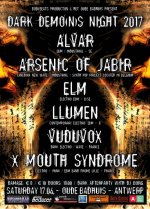 Dark Demons Night 2017 line-up confirmed!
04 April 2017 17:56
---
We are happy to announce to you the six bands that will be performing at our 3rd Dark Demons Night!
Because this year there were nine candidates and only six available slots for bands to perform at the Dark Demons Night a voting poll was organized in order to let the people decide who they wanted to see live on this night.
And it was an exciting poll until the end (at midnight on April 1st) and for some it was a very close call but here they are, the six bands that will try and convince friend and foe of their musical and performing skills on Saturday June 17th in the magnificent Antwerp venue, Het Oude Badhuis!
(In alfabetical order):
17.06 DARK DEMONS NIGHT 2017 @ Het Oude Badhuis, Antwerp, B
ALVAR (EBM/ Industrial - SE)
ARSENIC OF JABIR (Wave/Industrial/Syth - CAN/B)
ELM (EBM - SE/B)
LLUMEN (Electro/EBM - B)
VUDUVOX (Dark Electro/Wave - FR
X MOUTH SYNDROME (Electro-Punk/EBM - FR)
So why should you come and see these band? Because they need your support and encouragement to keep on kicking against the pricks and oh... yeah... Because every visitor will be given a ballot paperl to write down their appreciation for EVERY band. The two most favored bands will also be given the opportunity to open up the 16th edition of the renowned Belgian Independent Music Festival in December this year! So let's go and support!
More info:
Dark Demons Night - FaceBook event
Dark Demons Night - Band Info & Tickets
www.bimfest.be
www.bodybeats.be/en/dark-demo-n-s-night
[permalink]
---
Click here to read more (recent) news