Click here to read more (recent) news
---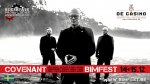 Second BIMFEST name released! COVENANT (se)! Playing exclusive vintage full show and more!
14 May 2018 10:48
---
After the release of our first BIMFEST name last month, the Swedish Minimal/Wave/Electro revelation AGENT SIDE GRINDER, BodyBeats Production is proud to announce our second BIMFEST artist: COVENANT( SE)!
Covenants 9th studio album, 'The Blinding Dark', was released in November 2016 and showed a remarkable development in style, something that Covenant definitely wanted to do with this album - and not least because of the subject that they dealt with on this album. With this release, this Swedish / German outfit has probably released their artistically most ambitious album so far. As many music lovers and critics agreed, this album was perhaps also their most obscure and moody album since their first two albums Dreams Of A Cryotank (1994) and Sequencer (1996).

It was therefore a logical consequence that we at BodyBeats, and after their successful The Blinding Dark Tour' passage in 2017, asked Covenant if they could be up to to the idea of presenting these first albums vintage gems to our BIMFEST audience. Being great admirers and supporters of BIMFEST, frontman Eskil Simonsson and his companions immediately agreed and started working. Of course, besides these lovely vintage songs, they will also play some of their most famous clubsongs to please their fans!

Early Birds combi-tickets are on sale now! Order fast and save some serious cash!
Tickets & info here!
[permalink]
---
Click here to read more (recent) news