Click here to read more (recent) news
---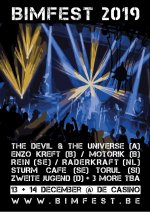 Slovanian electro-synth-pop band added to BIMFEST 2019 line-up!
29 July 2019 16:06
---
We at BodyBeats/Bimfest are proud to announce Slovenian Electro-popper Torul will perform a BIMFEST 2019! While their latest release reached the top of the German Alternative Charts (DAC), Torul concerts are known to be powerful, melancholic and charismatic live performances!

TORUL (SI) is an electro-pop band from Slovenia, headed by Torulsson, constantly exploring and merging influences with their own development in production. Instead of strictly following one style of music, TORUL are interested in production with a broader approach to music. The first TORUL album 'Dark Matters' saw light in 2010 and in spite of almost non-existent promotion brought two quite well accepted singles, 'It Was Supposed To Be Fun' and 'Saddest Song'. Right after that TORUL was signed by German independent label 'Infacted Recordings' and released the much more noticed album 'In Whole', from which two singles made it into the top 3 in various alternative charts ... Recently they released their sixth studio album 'Hikikomori' which reached number 1 in the German DAC charts!
www.bodybeats.be/en/bimfest-xviii
[permalink]
---
Click here to read more (recent) news