Click here to read more (recent) news
---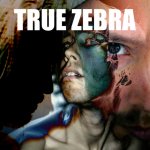 The electronic einzelgńnger TRUE ZEBRA releases 123
21 September 2018 13:03
---
Belgian and electronic einzelgänger True Zebra is releasing a compilation album featuring a selection of songs from his first three DIY underground releases.
A "best of", "greatest hits", "most played live"… however you want to name it is now available for the masses!
All tracks were written and recorded by mastermind Kevin Strauwen between 2008-2016 and all got a remastering treatment for this release.
Meanwhile Kevin states: "I am starting work on my new full-length recording - idiorrhythmic - which I hope will be finished at the beginning of 2019"
123 - Track listing
1. The Silence
2. Delirious
3. Sounds Easy
4. Under Control
5. Revelation
6. Push
7. Shame
8. Hunt
9. Happen
10. Transition
11. Everything Is Mediocre
12. Fuya
13. Ran
14. Not Like Him No
15. Bitch
FACEBOOK

BOOK this great live act on your event now!
True Zebra (B)
[permalink]
---
Click here to read more (recent) news