Click here to read more (recent) news
---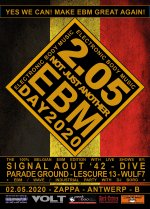 02.05 Not Just Another EBM day! 100% Belgian Edition!
21 January 2020 15:17
---
In an ideal world we would hold this annual event on the official date on which EBM fans all over the world celebrate International EBM day >24.2<.
However, this year we had to puzzle and deviate from this date due to venue unavailability and coincidental friendly events. Therefor, we opted this year for 2 May and called it 'Not Just Another EBM Day'!
So this is the date to mark in your agenda!
Come celebrate Electronic Body Music with us and your like-minded souls!

This year's 100% Belgian line-up:
SIGNAL AOUT '42
DIVE
PARADE GROUND
LESCURE 13
WULF7

Resident DJ BORG will provide the afterparty Electronic Body Music!

Tickets, info & media here!
www.bodybeats.be/en/belgian-ebm-day-2020
DIVE (B)
[permalink]
---
Click here to read more (recent) news